Braque du Bourbonnais Diets and Supplements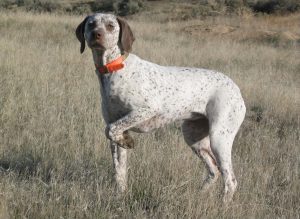 Feeding
Braque du Bourbonnais are hunting dogs and it is obvious that they need a high nutrition diet. These breed need a healthy lifestyle to maintain their energy level.
Here, there is all the information about the Braque du Bourbonnais required diet and nutrition you need to keep in mind.
Diet According To Braque du Bourbonnais' Energy Level
Dogs need a wholesome of nutritional diet according to your pet's activity level.
If you're Braque du Bourbonnais tend to exercise all day, go for hunting or running, then they might require 25% of protein and 15% of fat a day.
https://www.youtube.com/watch?v=SWojfO60vUo
If your dog is not quite active, exercises a minimum amount of time then they will need about 18% of protein and 5% fat a meal to maintain their energy.
How Often Should You Feed Braque du Bourbonnais?
You should feed the Braque du Bourbonnais four times a day if they are still a puppy. However, if you have a young Braque du Bourbonnais, then you should feed them once a day or you can even split the meal in two if you want to.
Remember, overfeeding them might cause obesity which can cause some serious health issue.
Calorie Intake For Braque du Bourbonnais
Calorie maintain is also one of the essential part of owning a dog. If the dogs don't get enough calorie, then that may be harmful for Braque du Bourbonnais. Similarly, excessive amount of calorie in the meal can also cause damage on your dog's health.
| | |
| --- | --- |
| Active and Young | 1400 Cal |
| Average Adult | 1000 Cal |
| Senior dogs | 700 Cal |
Calorie Count For Braque du Bourbonnais.
Best Dog Food For Braque du Bourbonnais
Some of the best dog food for Braque du Bourbonnais are :
Blue Basics Limited Ingredient Grain Free Formula Turkey and Potato Recipe
Merrick's Grain Free Texas Beef and Sweet Potato Recipe
Canidae Grain Free Pure Sea
Fromm Family Heartland Gold Grain Free
Best Dog Supplement For Braque du Bourbonnais
Probiotics
Fish Oil
Antioxidant
Omega-3 fatty acids
Multi-vitamins
Human Food They Can Eat
Turkey
Milk
Ham
Pork
Rice
Watermelon
Chicken
Carrots
Cucumber
Coconut
Why Is Your Dog Not Eating?
Medical Reason
Digestion problem
Worm infestation
Urinary tract infections
Bacterial or viral infections
Behavioral Reason
Separation anxiety
New environment
Addition of new member of animals
Stress
Dislike the taste of food
At last, giving your pet the best they deserve is
At last, your dog's health is the most aspect about owning a dog. When you think about owning a dog, you should make up your mind about giving them the best food and life they deserve.
Visit Doglime for more dog feeding information.
Others