Extraordinary Dog Names Starting With Letter 'I'. Both Male And Female Dogs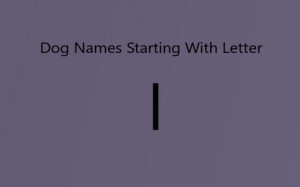 Facts
Welcome, and congratulations! You are going to own a pet. Isn't it? And you're struggling as a new parents about the name you're planning to give your furry baby. We are here to help you get out the confusion about the different names you had in mind before.
Here we have some unique names starting with the letter 'I' which will help you to make your friend's jealous.
Names With Letter I For male dogs
⦁ Ibon
⦁ Iston
⦁ Ion
⦁ Iebok
⦁ Igloo
⦁ Irwin
⦁ Ilan
⦁ Iron
⦁ Issac
⦁ Ivan
⦁ Idal
⦁ Igor
⦁ Ike
⦁ Imad
⦁ Iman
⦁ Imani
⦁ Isid
⦁ Issaj
⦁ Irun
⦁ Ievgen
So, if you're planning to get a male pet then these names are definitely going to match with your new furry member in your family.
And if you are going to get a female dog then the names that start with the letter I, given below can surely help you.
Names With Letter I For Female dogs
⦁ Ira
⦁ Itsy
⦁ Iris
⦁ Ipsa
⦁ Iroyne
⦁ Isis
⦁ Itabell
⦁ Ivi
⦁ Imaggi
⦁ Isadore
⦁ Iggy
⦁ Idora
⦁ Ilia
⦁ Itya
⦁ Idalia
⦁ Idi
⦁ Isle
⦁ Inna
⦁ Ilisa
⦁ Illan.
These were some exceptional names for your new pet. We hope we succeeded to get you out of the confusion. Just like human babies, new pet parents also face the same problems naming their new member. Which is completely fine.

Unlike celebrities, we tend to be slightly reserved when it comes to name our soon-to-be best friend. We don't name them Blanket, Apple or Cherry like celebrities do. The only inspiration we get is from the Hollywood movies or series like Harry Potter.
After all, our dog is special to us and they deserve a perfect name for themselves. Hope you found one from our list that starts with letter I. Happy searching!
Do you want to know dog names starting with letter X?
Visit Dog Lime for more Dog Names.
Others