Cane Corso Diets and Supplements
Feeding
Cane Corso is a large dog, by the time they are 18 months old, they might weigh around 110 pounds. Meaning, you should choose a diet that is high in protein and low in fat.
This breed should get high calorie, nutrient-diet to maintain its energy level and help him grow stronger and bigger as well. Hence, feeding a Cane Corso might not be the same as feeding other dogs.
In this article, you will explore everything you need to know about the diet and nutritional plans for Cane Corso.
Diet According To Cane Corso's Activity Level
Calorie Count : Not all breed have the same number of calories. Calorie count differs from breed to breed. The general rule to divide calorie is giving 20 calories per pound of body weight for large breeds like Cane Corso.
Protein : If this dog is hyperactive then, feed them about 25% of protein on a daily basis.
Fats : As said earlier, the number of fats should be relatively low in the diet plan of Cane Corso. Therefore, 15% fat is enough for them to maintain their energy level.
How Often Should You Feed A Cane Corso?
Feeding depends upon the age and weight of the Cane Corso. However, if your Cane Corso is between the age of 6 to 12 weeks old, then feed them 4 times a day. By the time they reach the age of 6 to 12 months, cut the meals to 2 times a day.
Remember, overfeeding leads to obesity which can be harmful to their health. Instead of feeding a large amount of food once a day, it is better to feed several meals with small portions as they are prone to developing bloat.
Why Is Cane Corso Not Eating?
There can be several reasons on why your dog is not eating.
Medical Reasons
Upset stomach.
Bacterial and viral infections.
Bloating.
Worm infestation.
Behavioral Reasons
Stress.
Change of environment.
Separation anxiety.
Dislike the taste of food.
Human Food Cane Corso Can and Cannot Eat
Sometimes we do not realize that giving everything we eat to our dogs can be dangerous. There are some human foods, that are very dangerous to the Italian Mastiff which you should consider not giving them.
Human Food Cane Corso Can Eat
Carrot
Chicken
Turkey
Pork
Ham
Cucumber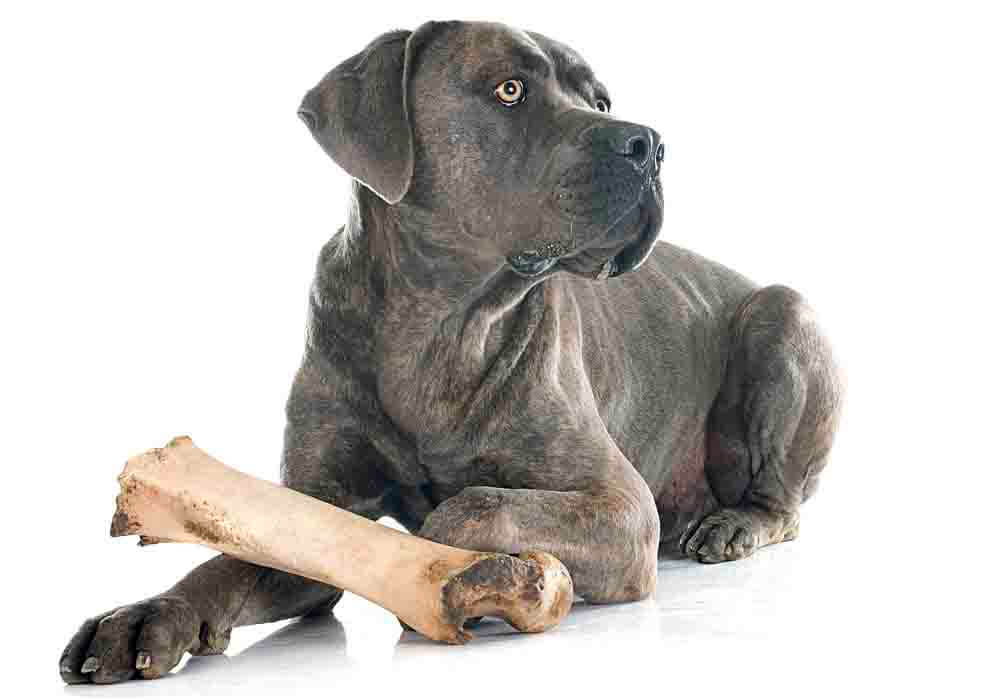 Eggs
Fish
Rice
Coconut
Watermelon
Apple
Rice
Bread
Human Food Cane Corso Cannot Eat
Avocado
Citrus fruits
Ice-cream
Almonds
Cinnamon
Chocolate
Chives
Garlic
Onion
Additional Dog Supplement For Cane Corso
Fish oil
Omega-3 fatty acids
Multi-vitamins
Antioxidants
Best Dog Food For Cane Corso
Feeding the right type of food to Cane Corso means expanding his lifespan. So, here are some of the top picks food brand for Cane Corso.
Hill's Science Diet Large Breed Puppy Lamb Meal & Brown Rice Recipe
Blue Buffalo Life Protection
Purina Pro Plan FOCUS Chicken & Rice Entree
Nutro Ultra Large Breed The Superfood Plate
Purina Pro Plan Large Breed Adult
Nutro Kitchen Classics Adult Premium Loaf
Wet vs. Dry Dog Food For Cane Corso
Both wet and dry dog foods are equally the best choice. The only difference is that dry food is more convenient to serve and much cheaper. In addition, dry foods are better for the dental health of your dog. However, it is less nutrient-dense as compared to wet food.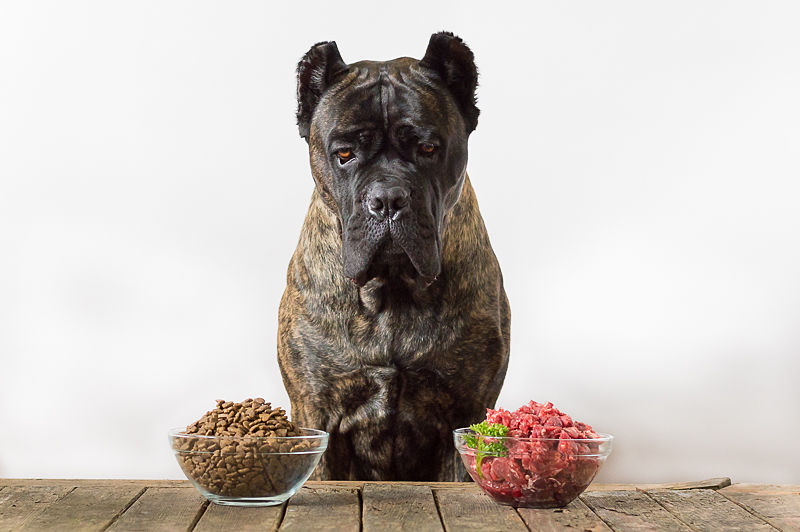 Wet food is great If you increase the protein level in your Cane Corso's daily diet. On the other hand, it is a lot more expensive as compared to dry food brands.
Feeding Raw Diet To Cane Corso: Benefits and Risks
Ancient Cane Corso used to eat raw food as a daily diet which is perhaps the reason why they're in a better physique. Nevertheless, there are both benefits and risks of feeding your Cane Corso a raw diet.
While feeding your dog the raw diet, always include the essential nutrients, protein, fat, calcium, and fiber. These are the key nutrients which helps your Cane Corso to grow stronger, develop lean muscles.
The Benefits of Feeding Raw Food
Maintains healthier coat and skin
Smaller stools
High energy level
Clean teeth
The Potential Risks
Unbalanced diet may hamper in Cane Corso's health if served for a longer period
Bacteria in meats might be a risk for both owner and the dog
Cost is expensive and hassle to prepare as well
To conclude, it is a kind of dog that requires a lot of nutritional diets to maintain its energy level and for a healthier life as well. If you are committed to your dog's better living then it is necessary to provide everything your Cane Corso will be needing in the coming days.
Visit Doglime For More Dog Feeding Information.
Others