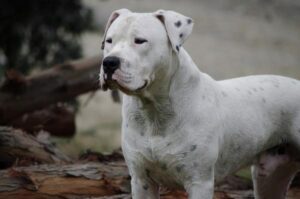 Feeding
Dogo Argentino is a high-energetic bog breed build with a muscular physique. They require tons of activities and exercise on a daily basis therefore, a proper balance diet high in protein and calcium is needed for them. These breed need these nutrition to maintain their energy and healthy lifestyle.
Here in this article, you get to know about their feeding process and methods as well as about their diets and supplements.
Required Diets For Dogo Argentino
Protein: Protein is the best nutrition to develop one's good health and body. It contains ammonic acid that also helps to build hair, nail, skin, and repair tissues. However, too much protein is bad for their health as 22.5% of it is enough in their daily diet.
Fats: Fats is the form of energy that help to function their body, reduce inflammation and by absorbing nutrient. It also makes their coat shiny. Too much high fat and too low are both bad for their health as 10% of fat will maintain their health.
Mineral: It is also very essential in their diet as it contains iron, zinc, calcium, copper, and so on that benefits their body and health. Minerals help to develop their teeth and bones that keep them strong while growing. It can be found in dairy foods, meats, fruits, and vegetables.
How Much to Feed the Dogo Argentino?
The feeding process depends on their age, weight, and activity level. A puppy of 6-12 weeks old should be fed 4 times a week for their whole development of body, brain, and strength. Then at the age of 3-6 months make the feeding 3 times a day as they are little matured and that must be enough for them.
When they are 6 months or older, limit their feeding to 2 meals a day as you don't want them to gain unnecessary weight. Anyway, your Dogo falls under a high-energetic dog so, some might need more feeding. In that case, you can give a healthy treat after training or a small portion should be sufficient.
Dog Food For The Dogo Argentino
There are tons of options as to what to feed a dog. For example, you can either buy some dog food, make it at home by measuring the nutrition, or even give raw food to them. Well, it all depends upon the owner's choice. Although there are plenty of choices out there based on their age. Below are some of the high-quality dog food for Dogo Argentino.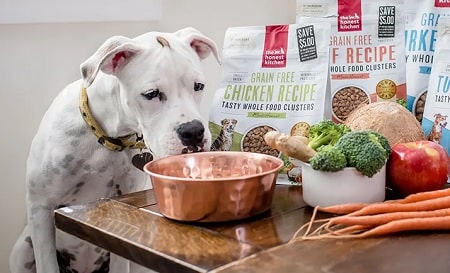 Blue Buffalo Life Protection Formula Large Breed Dog Food
Merrick Freeze-Dried Large Breed Dog Food
Natural Balance Ultra Premium Wet Dog Food with Real Meat & Brown Rice
Purina Pro Plan Large & Giant Breed Wet Food
Supplements For The Dogo Argentino
Supplements help to provide nutrition extracted from a food source that can be fed to your dog if he's not getting it from his daily diet. However, if they get enough nutrition then supplements are not recommended as they can have side effects affecting their health.
Fish Oil
Glucosamine
Antioxidants
Probiotics
Multivitamins
Human Food That Dogo Argentino Can and Cannot Eat
Eating one food continuously can bore your dog's taste, as you can feed different human foods to them. Many owners have a habit of feeding everything on their plate but, there are foods that your pup can eat yet some are harmful for them.
Can Eat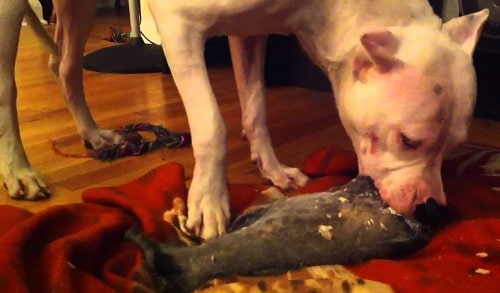 Meat
Fish
Egg
Turkey
Corn
Apple
Watermelon (without seeds)
White and Brown Rice
Cucumber
Cannot Eat
Chocolate
Ice-cream
Citrus Fruits
Garlic
Onion
Avocado
Caffeine
Nuts
Raisins and grapes
Why Is Your Dogo Argentino Not Eating?
To be a dog parent, you need to consider several things about their health as they can't tell you what's going wrong with them. Sometimes, the health problem is minor yet some might be very serious. It's always best to visit or consult a veterinarian if they show some symptoms of uneasiness.
Medical Reasons
Worm infestations
Bacterial infections
Digestive problems
Urinary tract infections
Fleas and ticks
Broken Bones
Ear Infection
Behavioral Reasons
Stress
Dislike the taste of food
Separation anxiety from owner
Change in routine
Addition of new member or animals in the family
Sudden environmental change
Visit Doglime for more dog breed information and feeding technique.
Others