Golden Statue of Alabai Dog in Turkmenistan As Symbol of Heritage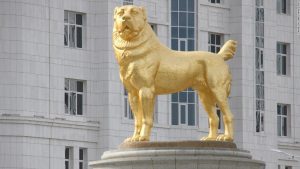 News
Long time leader of Turkmenistan Gurbanguly Berdimuhamedow has unveiled a giant golden statue of a dog on the middle of the road in the capital Ashgabat.
The Turkmen-bred gold plated Alabai dog stands tall on the circle of busy traffic as a symbol of national pride.
In addition, according to State TV Watan Harbarlary President Gurbanguly Berdymukhamedov waving to the clapping hands.
Furthermore, the ceremony was crowded with traditional dancers, a child holding an Alabai puppy, and a balloon release.
Along with horses, dogs are also the country's national heritage. It is used by many traditional herders among the population of six million.
In addition, the President Berdymukhamedov also wrote a book and a poem regarding to Alabai dog in 2017. Moreover, the Turkmenistan's president gifted the puppy to Vladmir Putin on his birthday.
The large breed, Alabai was bred as a guard dog to especially used for guarding sheep and goats. In other words, it is also known as "wolf crusher".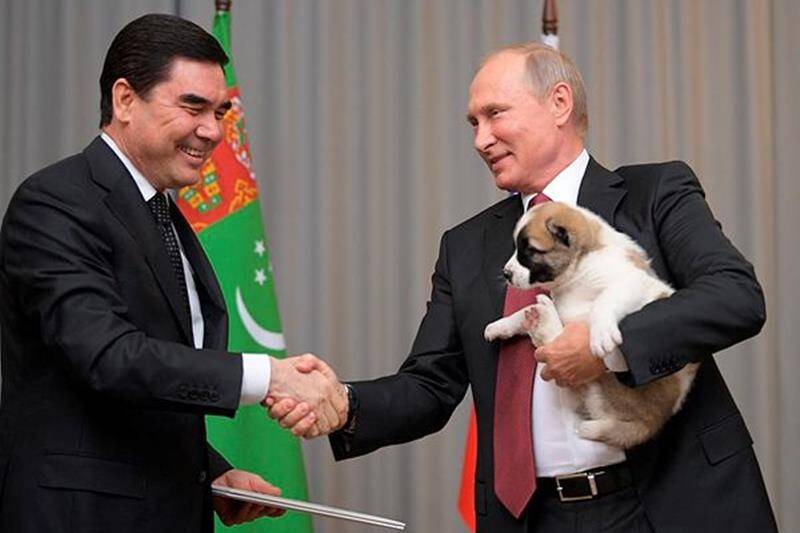 Turkmenistan's President has transformed the capital into golden domes, giant statues, and marble buildings. Moreover, the city also holds a Guinness World Record for the highest number of marble-clad buildings around the world in which Berdymukhamedov hangs from many of them.
The golden Statue of the local breed is the latest addition to Ashgabat's mesmerizing collections of monuments. It joins the gold-coated Statue of President Berdymukhamedov seated on a horse built in 2015.
Since the death of his equally authoritarian predecessor, Bredymukhamedov has held tight control of the country. Similarly, other projects in Turkmenistan includes $2.3 billion airport shaped like a bird, and a $5 billion 'Olympic Village' for the 2017 Asian Indoor and Martial Arts Game.
Despite of the luxurious architectures, Turkmenistan's population faces increase in population and food shortages.
According to the 2019 report from the Foreign Policy Centre, the country's economy which relies on the country's reserved gas, is on the "brink of collapse" due to low gas prices and falling natural gas exports.
Visit Doglime For More Dog News Information Around The World.
Others