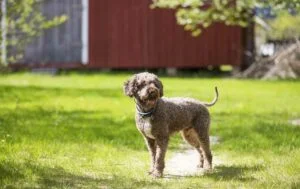 Feeding
Lagotto Romagnolo dog breed is originated from Romagna, Italy. As the name Lagotto suggest they are 'curly coated duck retriever'. They are also known as wet dogs as they originally were bred for the purpose of truffle hunting in the wetlands in Marshland, Romagna.
This breed of dog has an excellent smelling ability and is thickly coated protecting them from harsh and cold climates. They are very active dogs and also make a great companion and family dogs. They love outdoor and outdoor activities very much.
Lagotto Romagnolo Feeding Chart
| | |
| --- | --- |
| 8-12 weeks | 4 meals a day |
| 3-6 months old | 3 meals a day |
| 6 months – 1-year-old | 2 bowls of food a day |
Table: Lagotto Romagnola Feeding Chart
The above table shows the basic feeding times a day for your Lagotto Romagnola. But it may differ according to your dog and the feeding chart can be adjusted accordingly. Some dogs may eat one heavy meal a day when they reach the mark of one year whereas some may consume 2 bowls of food per day. It totally depends upon the dog and the owner of the dog.
Raw Foods Are Best For Lagotto Romagnolo
Raw foods are best for your Lagotto Romagnola rather than the kibble or other dog food you get to buy in stores. Not only for Lagotto Romagnola but raw foods are best for almost all dogs. The stomach of dogs is not designed to digest the store products with artificial contents.
Sometimes dog food may contain additional fats and starch that will not be suitable for the well-being of your dog. Rather than taking the risk and consuming them, it is better you approach the raw food. This doesn't mean you only have to feed your dog raw food you can feed them store brought products. It solely depends upon the owner.
Raw Foods For Your Lagotto Romagnola
Ground bones
Raw eggs
Vegetables like carrots, broccoli, etc
Organ Meats
Yoghurt
Fruit
Benefits Of Raw Food
Improved skin condition with thick coats.
More energy and stamina are added.
Great immune system.
Decreased behavioural issues and hyperactivity.
Great physique with a low chance of obesity.
Factors Affecting The Diet Of Lagotto Romagnola
The metabolism rate of your dog
Food Quality
Exercise
Age of your dog
Weight
Foods That Are Completely No-No For Lagotto Romagnola
Chocolates
Alcohol
Raisins
Grapes
Salty Food
Tomato
Flour
Bones
Onion
Garlic
Chives
Supplements For Your Lagotto Romagnola
Antioxidants
Probiotics
Vitamins
Glucosamine
Fish Oil
If you liked the above content please feel free to visit Dog Lime for other similar content!
Others