Country of Origin
Australia
Nicknames and Other Names
Stumpy Tail Cattle Dog, Heeler, Stumpy,
Stumpy Tail
Scientific Name
Canis lupus familiaris
Breed Type
Herding
Group
Herding
Bred For
Herding Cattle
Size
Medium-sized
Recognized By
FCI, UKC, CKC, AKC, NZKC, ANKC
Life Span
12-15 years
Ideal Weight
38-45 lbs (males)
32-35 lbs (females)
Ideal Height
18-20 inches (males)
17-19 inches (females)
Fur Type
Short
Common Colors
Blue, Red, Blue Mottled, Red Mottled, Red
Speckled, Blue Speckled
Markings
Black, Red
Availability
Rare
Achievements
Non
Suitable for Apartments
No
Used in World War
No
Most Similar To
Australian Cattle Dog
The Australian Stumpy Tail Cattle dogs are rugged dogs with pricked ears and long legs. The are medium sized dogs with their tail cut to protect them from the predators.
The Australian Stumpy Tail cattle dogs are highly energetic and the owner must spend a lot of time with their pet to keep them healthy and happy. A proper trained Australian Stumpy Tail Cattle dog can be a great addition to the family.
Origin and History
Australian Stumpy Tail Cattle dog is the oldest pure breed in Australia. It is the result of crossing British herding dogs with the Australian Dingo. It was originated in the late 18th century with the arrival of first British colonists.
The Australian Stumpy Tail Cattle dogs were introduced to North America after World War II. After World War I, the number of Australian Stumpy Tail Cattle dogs was declining, as a result, a redevelopment programme began in 1988 by Australian National Kennel Club to help preserve the breed. However, these dogs were not registered to AKC until 2000.
Behavior,temperament and personality
The Australian Stumpy Tail Cattle dogs are brave and loyal breed anyone can ever have in the family. These dogs are smart and intelligent which behaves according to the situation. These breed simply knows how to and when to show what kind of behavior.
Australian Stumpy Tail Cattle dogs are non- aggressive to everybody but are quite suspicious towards strangers but won't attack them. These breeds were bred to work hard all day long which makes exercise important on a daily basis. If they're not properly exercised then they might become aggressive and destructive.
These breeds might be an independent streak but they should not be left alone for long periods especially when they're cooped up indoors. This may lead them to separation anxiety and become aggressive. They can sometimes have the strong mind of their own and will do things on their own ways.
The Australian Stumpies are great protectors to their family and territory. They will let you know by barking when they see some strangers stepping towards their territory.
Trainability
The Australian Stumpy Tail Cattle dogs are independent streaks and may be difficult to train. Motivating them followed by treats can be a problem solver for the masters.
These dogs tend to be dominant if they sense any lack of leadership and will try to rise to the position. Australian Stumpies must be treated nicely and lovingly so that they follow your commands. They will not respond to the harsh tone of the voice.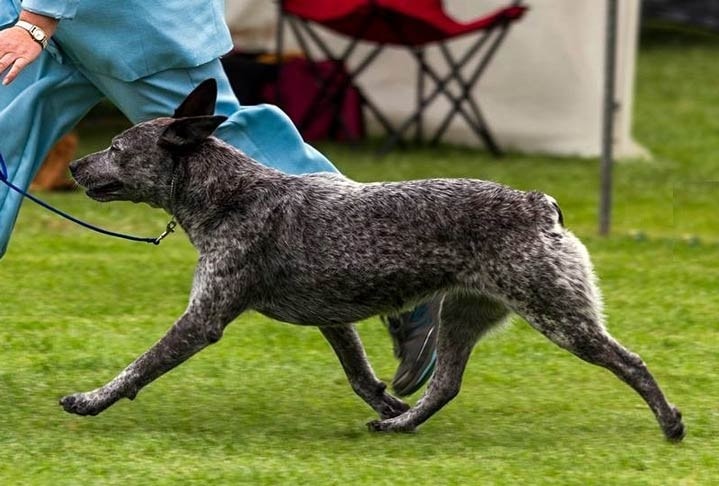 Consistent and firm leadership is needed while training the Australian Stumpy Tail Cattle dogs. The training should be made fun and interesting with variety of training methods.
Facts
Some of the facts related with Australian Stumpy Tail Cattle dogs are as follows:
Australian Stumpy Tail Cattle dogs were added to the foundation stock service in may 2018.
Australian stumpy Tail Cattle dogs have longer legs than Australian Cattle dogs.
Grooming
Requirement for grooming of Australian Stumpy Tail Cattle dog is minimal. Weekly gentle brushing is necessary to remove excess shed hair and dirt.
Australian Stumpy's facial whiskers should not be removed. Nails need weekly attention as they grow quickly and sharp.
Are they child friendly?
Yes, Australian Stumpy Tail Cattle dogs are child-friendly because these dogs are playful with the child but proper consideration and observation should be made from parents.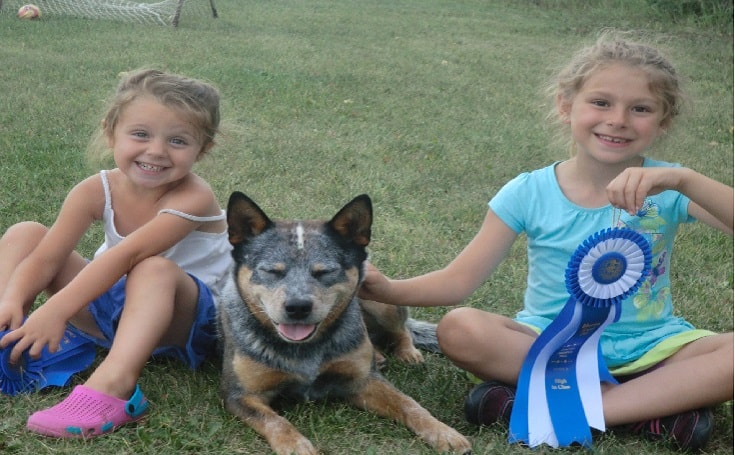 The Australian Stumpy Tail Cattle dogs have a very high energy level. On the other hand, the children are also highly energetic and together make a good pair.
Health issues
General Health
Healthy
Common Health Issues
Blindness, Deafness, Hip Dysplasia,
Retinal Dysplasia, Cataracts
Hypoallergenic
No
Vaccination Required
Rabies, Canine Distemper, Leptospirosis,
Canine Parainfluenza, Kennel Cough,
Canine Parvovirus
Canine Coronavirus
Shedding
Moderate Shedding
Drooling
Low
Grooming
Easy and minimal required
Weight Gain Potential
Average to High
Separation Anxiety
Low Chance
Allergies
No
Diets and Supplements
Protein- 18%
Fat- 6%
Omega-3 and Omega-6 fatty acid
Progressive Retinal Atrophy: It is characterized by the degeneration of the retina which causes vision loss.
Hip dysplasia: It is the condition in which the hip socket does not cover the ball portion of upper thighbone.
Deafness: It refers to the more severe to profound hearing loss.
Colors
Australian Stumpy Tail Cattle dogs are found in the following colors:
Blue
Blue and Black
Red speckle
Puppies
The Australian Stumpy Tail cattle can give birth to 4-6 puppies at once.
Cost
The average cost of the Australian Stumpy Tail Cattle puppies ranges from $500 to $700 USD. The cost of the puppy varies from breeders to breeders.
Size
The average weight of the Australian Stumpy Tail Cattle dog is 35-50 pounds weighing 35-50 pounds.
Which dog breed are they similar to?
Conclusion
The Australian Stumpy Tail Cattle dogs possess natural aptitude in the working and controlling of cattle. It is ever alert, watchful and obedient.The stumpy cattle dog was recognized by the united kennel club on January 1, 1996.
Visit Doglime to know about different dogs breed information.
Tags:
Medium Sized Dogs