Briard Diets and Supplements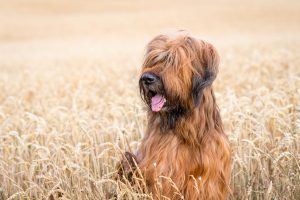 Feeding
Feeding and diet plan for Briard is obviously overwhelming for every dog owner of this breed. There are tons of food brands and ingredients and choosing from them is not an easy task.
Once you bring your Briard home, you will want to give everything they deserve. So, here is everything you need to know about their diet and supplement to maintain a healthy lifestyle for Briard.
Diet According To Briard's Activity Level
Giving right amount of food according to their activity level is very important. Briard dogs have quite an impressive activity level. However, not every Briard are active, it also depends upon each dog's nature.
If your Briard plays and runs outside for an hour. If they have a exercise session on a regular basis, then they are considered as an active dog. An active Briard should have about 22% – 25% of protein and about 15% of fat a day. Nevertheless, you can always lesser the amount according to their daily activity level.
A less active Briard will need about 18% protein and 5% fat a day.
Calorie Intake For Briard
Along with the important nutrition like protein and fat, maintaining calorie is also an essential part of feeding.
| | |
| --- | --- |
| Active and Young | 1400 Cal |
| Average Adult | 1000 Cal |
| Senior Dogs | 700 Cal |
Calorie Count For Briard.
How Often Should We Feed Briard?
Feeding depends on the age of Briard. If your Briard is still a puppy, feed them four times a day. However, when they reach the right age, feed them twice a day.
When your Briard reaches the age of an average adult, you should feed them only once a day. However, you can also divide the meal into two and feed them twice a day – half the daily requirement in the morning and half in the evening.
Some of The Best Dog Food For Briard
Blue Basics Limited Ingredient Grain Free Formula Turkey and Potato Recipe
Canidae Grain Free Pure Sea
Fromm Family Heartland Gold Grain Free
Nutro Ingredient Limited Diet Adult Dog Dry Food
Merrick's Grain Free Texas Beef and Sweet Potato Recipe
Human Food Briard Can or Cannot Eat
Can Eat
Turkey
Milk
Ham
Cucumber
Coconut
Carrot
Chicken
Apple
Melon
Rice
Cannot Eat
Nuts
Citrus Fruits
Avocado
Ice-cream
Garlic
Onion
Chives
Cherries
Best Dog Supplement For Briard
Antioxidant
Multi-vitamins
Probiotics
Omega-3 fatty acids
Fish oil
Why Is Your Briard Not Eating?
When your Briard starts to skip meals, then there are various reasons why they are not eating. It can be both medicinal reasons or behavioral reason as well.
Medicinal Reasons
Digestive problems
Worm infestations
Bacterial or viral infections
Urinary tract infections
Behavioral Reasons
Separation anxiety
Dislike the taste of food
Depression or stress
Change of environment
All in all, providing the right amount of nutrition for your Briard helps them to stay healthy and lively.
Visit Doglime for more dog feeding information.
Others