Goldador Dog Breed Information
Breeds
Country of Origin
Not known
Nicknames and Other Names
Goldador Retriever
Scientific Name
Canis lupus familiaris
Breed Type
Retriever
Group
Hunting
Bred For
Developing sensitive and tolerant breed
Size
Medium-sized
Recognized By
Not recognized as pure breed
Life Span
10-15 years
Ideal Weight
Male: 65-80 pounds
Female: 60-75 pounds
Ideal Height
Male: 22-26 inches
Female: 22-14 inches
Fur Type
Dense, Medium, Straight
Common Colors
Black, Yellow, Reddish gold
Markings
Non
Availability
A bit difficult to find, not exactly rare
Achievements
Non
Suitable for Apartments
Yes
Used in World War
No
Most Similar To
Golden Retriever
The Goldador is a hybrid dog breed that is obtained from crossing purebred Golden Retriever with a purebred Labrador Retriever. It is also known as Golden Lab.
The medium-sized Golden labs are loving, loyal and devoted dogs. They are gaining popularity these days in the United States. Here is everything regarding this breed.
Origin & History
The Goldador was bred over a decade ago in 21st century to fulfill a need for a sensitive and tolerant working dog. As a success, these dogs are now used for guide and assistant dogs, therapy dogs, search and rescue purposes.
The Golden Lab has been proving itself as a loyal and loving companion for both families and hunters. Though it is not so popular as other hybrid breeds. It is quite sure that these dogs are making their owners appreciate them with their finest qualities.
As Goldador is a mixed breed of Golden Retriever and Labrador Retriever, it is not recognized as a pure breed. AKC, UKC, CKC, and other kennel clubs have not recognized this breed yet.
Are these dogs child-friendly?
Yes, the Golden Labs are extremely child-friendly dogs. In fact, these are very loving and affectionate with children. Their ability to get along with kids is very good. And they can bond with the kids of any age quite well.
The Goldadors are absolutely good with their sensitive and tolerant ability with kids. Hence, if you want a canine companion for your kids, the Goldador is a great recommendation for you.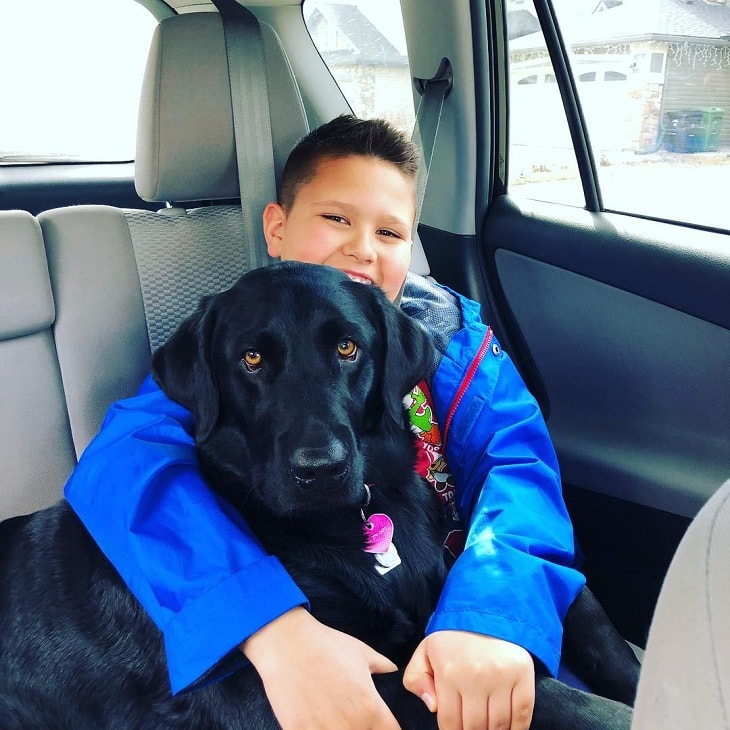 Behavior, Temperament & Personality
The Goldadors have a loving and good-natured temperament. These dogs are very much affectionate with their people and love being with all the time. Moreover, whether it is playing fetch or going on a walk, they are very much suited for everything. As far as their behavior goes, they behave nicely and friendly with other dogs, pets and kids especially.
Talking about the personality, the Golden Labs are devoted, affectionate and loyal dogs. They love children and get along with other animals especially if raised together. In addition, these dogs are naturally eager to please. Though they are able to think and act independently, they like to have guidance and structure in their life. Because these dogs are so people-oriented, they detest being left alone.
Trainability of the Goldador Breed
Training a Goldador dog is a very easy task to do. As they are so obedient and intelligent, training them is something that you would not regret. You will enjoy training these dogs because of their natural ability to please.
The Golden Labs respond best to positive reinforcement techniques. Their intelligence and need to please will provide you joy while going through obedience and basic training. Therefore, these dogs acquire a big A+ when it comes to their training ability.
Facts about the Goldador breed
Here are some facts about the Goldador Breed:
As the Goldador is a hybrid breed, it is not recognized by the American Kennel Club (AKC).
It is a product of a cross between a purebred Labrador and purebred Golden Retriever.
Common Health Issues of the Goldador Breed
General Health
Healthy
Common Health Issues
Hip Dysplasia, Elbow Dysplasia,
Hypothyroidism, Cataracts
Hypoallergenic
No
Vaccination Required
Rabies, Leptospirosis, Canine Coronavirus,
Canine Parvovirus, Canine Parainfluenza,
Canine Distemper, Kennel Cough
Shedding
Heavy Shedder
Drooling
Moderate Drooler
Grooming
Heavy Grooming Required
Weight Gain Potential
Average
Separation Anxiety
High Chance
Allergies
None
Diets and Supplements
Protein: 23%
Fat: 8%
Glucosamine
Probiotics
Fish Oil
The Goldador dogs live a life of 10 to 15 years during which they suffer from various diseases. Some of them are:
Hip Dysplasia
Hip Dysplasia is the hereditary condition due to the malformation of the hip joints.
Diabetes
Diabetes is a disorder in which the dog cannot regulate their blood sugar levels.
Cataracts
Cataracts are an opacity with a cloudy appearance on the eye lens causing difficulty for the dog to see.
Color Patterns
The Goldador or the Golden Labs are found in 5 different colors which are as follows:
Size
The Goldar is a medium-sized dog breed. A Goldador is usually 22 to 24 inches tall weighing a weigh about 60 to 80 pounds.
Price of Goldador puppy
A mother Goldador gives birth to 5-8 puppies at a time. And a healthy Goldador puppy will cost you an approximate amount of $800 to $1200 USD.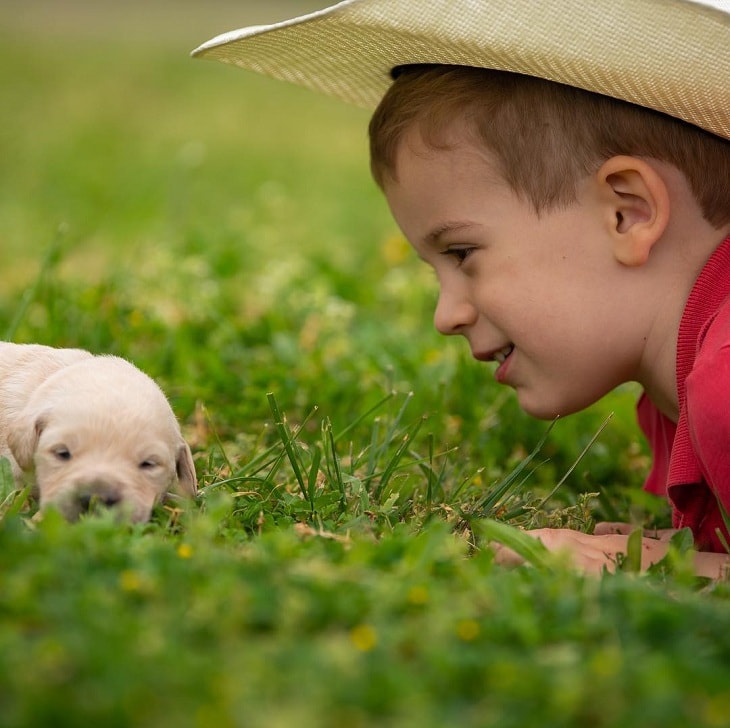 Which dog breed are they similar to?
Dog breeds that are similar to the Goldador Breed are as follows:
Visit Doglime for more dog breeds information.
Others