Golden Retriever Dog Breed Information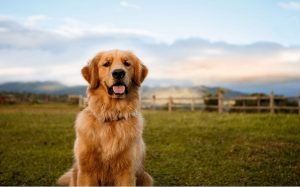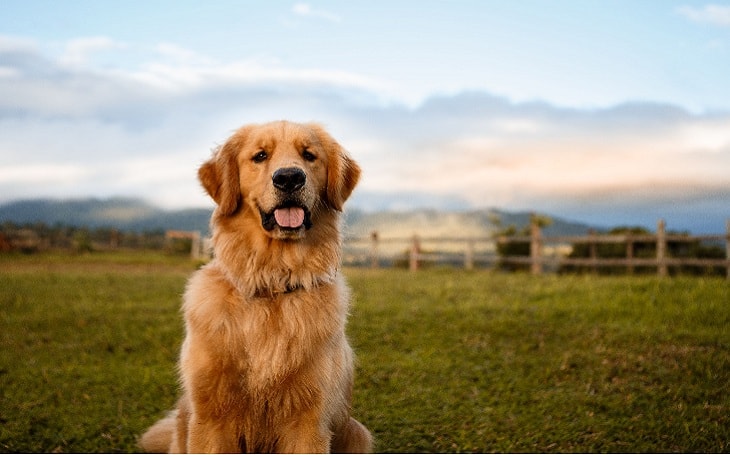 Breeds
General Information
Physical And Size
| | |
| --- | --- |
| Size | Large |
| Min Life Span | 10 |
| Max Life Span | 12 |
| Min Ideal Weight for male | 29 |
| Max Ideal Weight for male | 29 |
| Min Ideal Weight for female | 24 |
| Max Ideal Weight for male | 29 |
Ranking
| | |
| --- | --- |
| Intelligent Rank | |
| Trainability | |
| Playfulness | |
| Affection Level | |
| Social Needs | |
| Barking | |
| Watchdog Ability | |
| Territorial | |
| Mouthiness | |
| Adaptability | |
Characterisitics
| | |
| --- | --- |
| Temperament | Loyal, Gentle, Highly-intelligent |
| Prey Drive | Yes |
| Fighting Dog | No |
Friendliness
| | |
| --- | --- |
| Stranger Friendly | High |
| Child Friendly | High |
| Cat Friendly | Medium |
| Dog Friendly | High |
| Office Friendly | High |
| Apartment Friendly | Low |
| Senior Citizens Friendly | Low |
| Service Dog | Low |
| Search and Rescue Dog | Low |
| Biting Potential | Low |
Country of Origin
Scotland
United Kingdom
Nicknames and Other Names
Golden Flat-Coated
Yellow Retriever
Goldie
Scientific Name
Canis lupus familiaris
Breed Type
Purebred
Group
Sporting Group
Retrievers
Bred For
retrieving waterfowl such as duck
and upland game
Size
Medium to large-sized
Recognized By
AKC, FCI, UKC, ANKC, CKC, KC, NZKC
Life Span
10-12 years
Ideal Weight
Male: 65-75 pounds
Female: 55-65 pounds
Ideal Height
Male: 23-24 inches
Female: 21.5-22.5 inches
Fur Type
Medium or long, straight or
slightly wavy
Common Colors
Golden, Light Golden, Dark Golden
Markings
None
Availability
Widely available
Achievements
Featured in many movies and tv shows
Rank 3rd among AKC registered breeds
Suitable for Apartments
Moderately suitable
Used in World War
No
Most Similar To
Labrador Retriever
The Golden Retriever is one of the most beloved and loving breeds which was originated in Scotland. They are well known for their loyal and outgoing personality.
Golden Retriever's tolerant and friendly attitude makes them a wonderful family dog. If you are about to own a Golden Retriever, here are all the details about this breed.
Origin & History
Originated in the Scottish Highlands, the Golden Retriever was developed by Lord Tweedmouth by crossing a yellow Flat-Coated Retriever with a breed that has been extinct now; the Tweed Water Spaniel.
Tweedmouth again crossed in the Bloodhound, Irish Setter and more Tweed Water Spaniel whose litters were called the Golden Flat-Coat. They were only later given the name Golden Retriever.
The Golden Retriever has been one of the most popular breeds as family companions and for obedience competitions, tracking and hunting, bird dog on land and water and a guide for the blind people.
AKC recognized the Golden Retriever in 1925 A.D. and the breed is currently ranking 3rd according to the club.
Are they child-friendly?
Yes, the Golden Retrievers are very child-friendly dogs that thrive on affection and love from others. They have a good reputation for being gentle and friendly with kids. They love being around with kids playing along all day.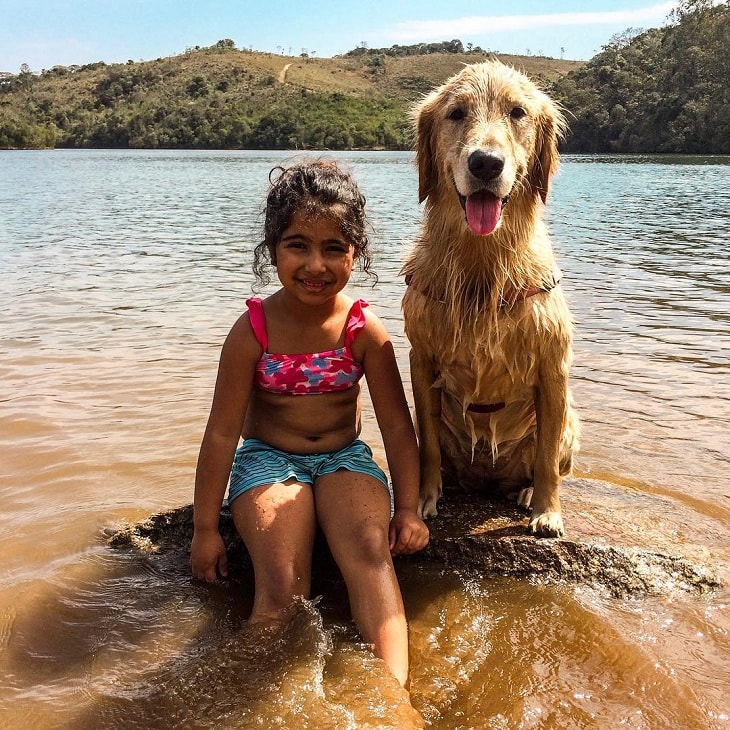 Though they are not aggressive, their large-sized body is sufficient to knock down small children. So, kids shouldn't be left unsupervised.
Behavior, Temperament & Personality
The Golden Retrievers are very calm and patient dogs that are very loyal to its owner. They are always playful and lively with the eagerness to please everyone around them.
The Golden Retrievers have a very loving and sweet temperament. They are very even-tempered that are very less likely to be aggressive. They are wary of strangers and act protectively in front of them.
The Golden Retrievers have a very lovable and genuine personality. They are suited to be the perfect companion for a man because of its friendly and reliable nature.
Trainability
The Golden Retrievers are extremely easy to train as they are very intelligent and are ranked fourth in the Intelligence of Dogs by Stanley Coren.
Their intelligence makes it easier for them to learn and memorize things very easily. Even the first time owners will not have to face many difficulties while training the Goldens.
Facts
Here are some facts about the Golden Retriever breed that you would want to know:
The Golden Retrievers were originally bred as gun dogs.
They are the third most popular dog breed in the USA.
They have a two-layer coat.
They are incredible swimmers.
They have a powerful scenting ability.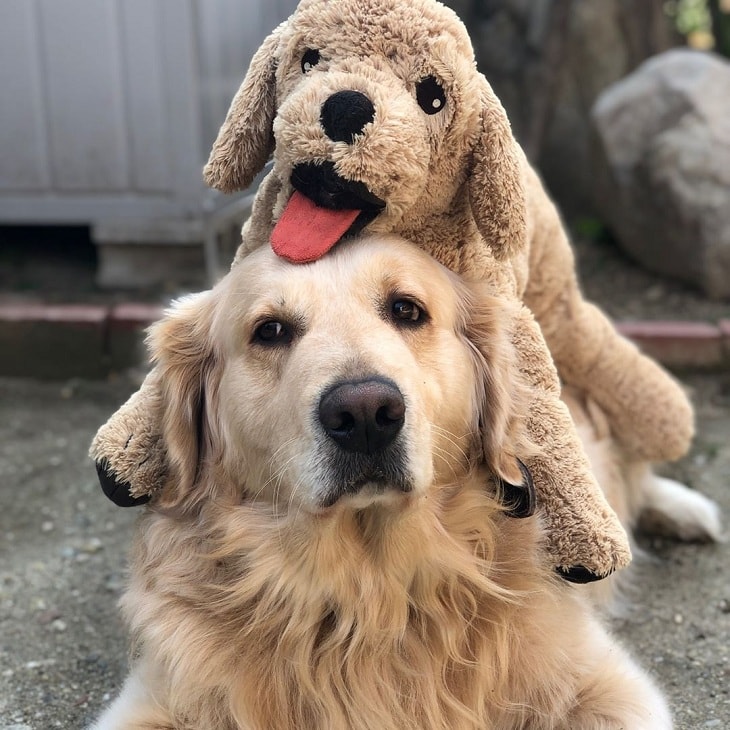 Health issues in Golden Retrievers
General Health
Healthy
Common Health Issues
Bloat, Hip Dysplasia, Osteosarcoma,
Subvalvular AorticStenosis, Hemangiosarcoma,
Cataracts, Allergies
Hypoallergenic
No
Vaccination Required
Rabies, Canine Parainfluenza, Kennel Cough,
Canine Coronavirus, Canine Distemper,
Canine Parvovirus, Leptospirosis
Shedding
Moderate Shedder
Drooling
High Drooler
Grooming
Average Grooming Required
Weight Gain Potential
High
Separation Anxiety
High Chance
Allergies
None
Diets and Supplements
Protein for Puppy: 26%
Protein for Adult: 22%
Fat for Puppy: 15%
Fat for Adult: 10%
Glucosamine
Multivitamins
Antioxidant
Probiotics
Living an average life of 10-12 years, the Golden Retrievers suffer from various diseases. Some of them are as follows:
Epilepsy
Epilepsy refers to a severe brain disorder that causes unprovoked seizures.
Osteosarcoma
Osteosarcoma is a type of bone cancer that is usually common in dogs of large breeds.
Hip Dysplasia
Hip Dysplasia is an inherited disease in which malformation of the hip joints occurs.
Size
An adult female Golden Retriever dog is 51-56 cm tall with a weight of 25-32 kg. Whereas, an adult male Golden Retriever dog is 56-61 cm tall weighing around 30-34 kg.
Color Patterns
The Golden Retrievers are found in four different colors which are as follows:
Dark Golden
Light Golden
Cream
Golden
Price of Golden Retriever puppy
A mother Golden Retriever gives birth to 4-12 puppies at a time. A healthy puppy will cost you an amount of $500-$2000 approximately.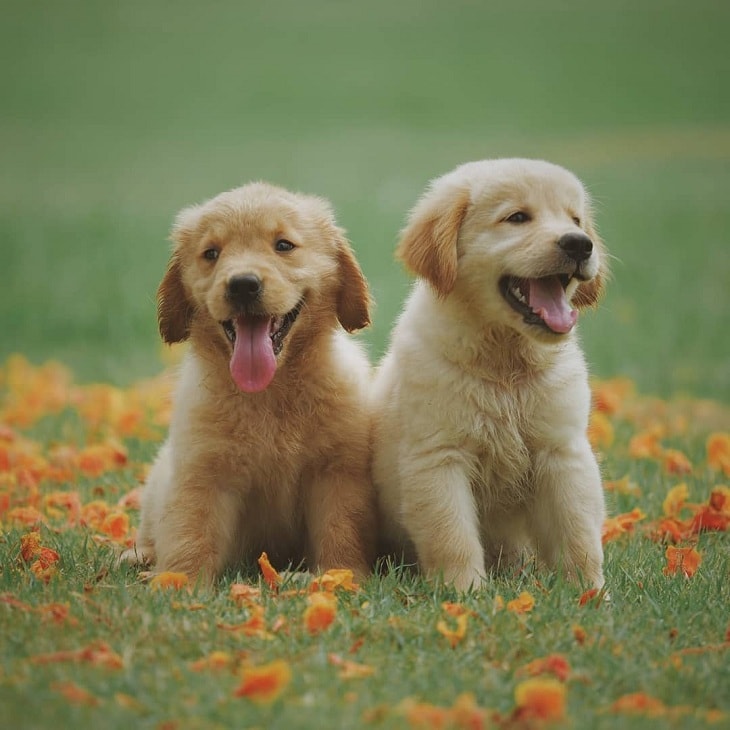 Which dogs are they similar to?
Here are some dog breeds that are similar to the Golden Retrievers in terms of breed category:
Visit Doglime for more dog breed information.
Others