World's Tallest Dog, Zeus The Great Dane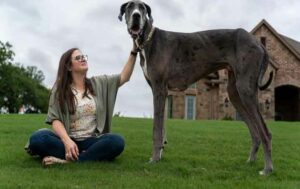 News
Zeus a Great Dane, from Texas, is recorded in the Guinness World Records as the tallest dog. Zeus is 1.046 meters (3 feet and 5.8 inches) tall. When standing on his hind legs Great Dane stretches over 7 feet.
The owner of Zeus, Brittany Davis always dreamed of having a Great Dane and naming it Zeus. Her brother gifted her the dog when it was just eight weeks old. She never imagined the puppy growing out to be the tallest dog in the world.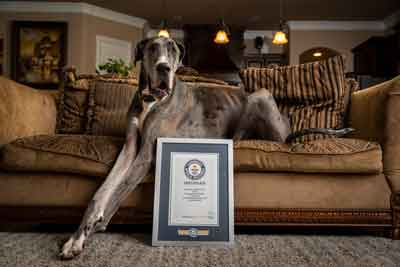 Many people ask Davis if Zeus is a dog or a horse and the people are often asking her if they can ride him or does Zeus have a saddle.
As for the food for the tallest dog in the world, Davis feeds him 12 cups of dog food formulated for giant breeds of dogs. She also provides him supplements for the joints and always refers her vet to keep Zeus fit and healthy.
Originally Great Dane was bred for the purpose of hunting and protecting women by running by carriages. But Zeus is nothing like that and is laid back and mostly loves spending time with the family and his pet siblings.
Zeus still thinks of himself as a puppy and loves to sit on people's laps. Zeus is pretty popular in the Dallas Market and every vendor knows him and adores him sometimes he receives extra treats from the vendors.
Zeus with the huge size is very loving towards other dogs and doesn't dominate small breed dogs but rather tries to befriend them. He lives with his three Australian Shepherd siblings.
For more dog news and information do visit Dog Lime!
Others