Chow Chow Dog Diets Supplements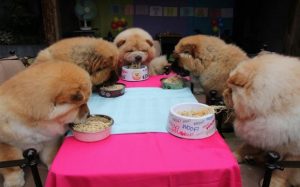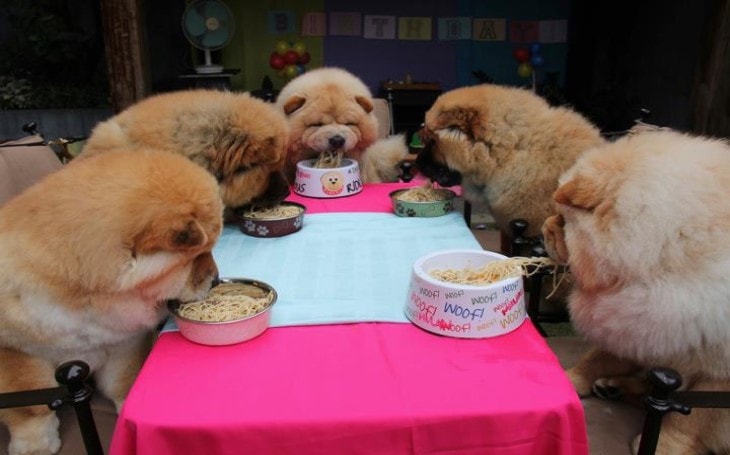 Feeding
Chow chow, like its name the breed is also cute with his fluffy coats to his adorable eyes. You'll surely fall in love the second you see them. These cute little pooches were originated from china and is also known as 'puffy-lion dog'.
Chow Chow Dog Breeds are highly intelligent and are very loyal to their family. Despite of their cute face size, they are very strong enough to fight with other pets. Once you own them you will want to show it off as they are like cute fluffy toys. But what are the diets and nutrients required for you dog? Is it important to fulfill their diet lists?
Yes! it is very important to give them proper diet to keep them healthy and happy.
Diets And Nutrition Required For Your Dog
Most Chow Chow can eat the same food like other dogs do. But there are some different and important diet and nutrition they need to be more healthy.
Protein
Every dog needs protein in their diet. Protein is the most essential nutrition every dog needs in their diet. The food you fed your dog needs to have a minimum of 18 percent protein for maintenance. However, that doesn't mean that you should feed your pet the food with a high amount of proteins. As the debate says, Chow Chow Dogs need a high amount of protein to help main their coat.
Therefore, feeding a food with good amount of protein that is easy to digest would be the best choice. A protein percentage between 22-26 percent is a good amount for kibble with grains.
Fat
A Chow Chow Dog Breed needs a minimum 5 percent fat in his daily diet and a minimum 8 percent of growth is required for growth and reproduction. Fat in the food makes the food more tastier making him to eat more and more.
But too much fat in your canine can easily lead to weight gain which is a common problem in Chows since they are not so active dogs. The best dog foods for chow chows usually holds the percentage of fat between 12 to 16 percent.
Carbohydrates
You may not find a list of carbohydrates in your Dog's food. That doesn't mean the food doesn't contain carbs. They are the source of energy, fiber and many other things that your dog needs. Definitely, your furry Chow Chow cannot survive on Fat and Protein alone.
Carbohydrate helps to provide sugar and starches in your Chow's brain and other tissues while other fibers from carbs are important for the digestive system.
Fiber
Fiber is the another essential nutrient your dog must have in his diet. Fiber comes in both soluble and insoluble forms.
Soluble fiber attracts water and turns it to gel form during digestion to slow the process. In the other hand, insoluble fiber adds bulk in your pet's stool and also helps to speed the process.
Probiotics And Prebiotics
Probiotics are live organisms that are added in your dog's food so that they can grow in your pet's digestive system. Once they are grown, they can help in healthy digestion.
Prebiotics are a kind of dietary fiber that helps to grow good bacteria in your dog's belly.
Vitamins And Minerals
Vitamins and Minerals are known as 'condiments' in dog food business. Most dog food nowadays contains vitamins and minerals inside them.
Vitamins and minerals are normally added after the cooking process due to the temperature during the cooking process can strip away many nutrients away.
What Does Chow Chow's Love To Eat?
Chow Chow, your furry four-legged friend loves eating eggs, rice, and cottage cheese. Rice is very good for them to maintain their shiny coat as well as their digestive system.
After your Chow Chow is at least one year old, it is fine to feed them once in a day. However, many stick around with feeding 2 times. The feeding time should be consistent and for those who choose to feed them once a day are recommended to feed in the evening.
While choosing the correct food for your furry pet, you should remember that they should not be fed a lot of meat as they will have skin problems.
Some Best Food Products For Chow Chow
Royal Canin Size Health Nutrition Medium Dog Food For Medium-Sized Dogs. (Best Overall)
Purina Pro Plan Savor. (For Best Affordable Choice)
Hill's Ideal Balance Large Breed. (Best For Overweight/ Weight Loss)
Royal Canin Medium Sensitive Digestion Dry Dog Food. (Best For Puppies)
Hill's Science Adult Sensitive Stomach And Skin Dog Food. (Best For Elderly Dogs).
Best Supplements For Chow Chow
The debates are still on in the topic, whether dog's need supplements or not. Many vets have agreed about the supplements on the dog's diet where chow chows are no strangers. The following are the essential supplements for your dogs.
Multi-Vitamin
Vitamins are responsible for thousands of chemical reactions. They work with enzymes and minerals to make sure the digestion is normal or the hair and coat is shiny.
To ensure chows are in their best health, you should always feed them healthy fresh and high quality dog foods and supplements when needed.
Older dogs usually absorbs less amount of electrolytes, vitamins and minerals. Oral health issues is the most common reason to prevent them from eating causing them to receive less dose of daily vitamins and minerals.
Consult with your vet to determine whether multi-vitamins are beneficial.
Fish Oil And Omega 3 Fatty Acids
A fish-oil is supplement is all safe as it is an anti-inflammatory. This supplement can help in allergic dermatitis, itchy or dry skin. According to some experts, giving your dog fish oil can slow the onset of arthritis. Remember, while purchasing these types of items, make sure to check whether it contains DHA and EPA.
Glucosamine
Glucosamine is known for the building blocks for ligaments and cartilage as it acts as an effective lubricant by making the fluids in the joints slick. Puppies from large breed tend to suffer from imbalances in mineral level which leads to developmental issues in terms of strength and growth in bone.
As suggested, large breeds dogs will have 500 mg twice day. This products works best when mixed with fish oil, since Chows have high chances to get hip dysplacia and arthritis.
Lastly, these were some important supplements for your dog . These may be beneficial for your Chows but it also varies from dog to dog. Just make sure to consult a licensed vet before giving them any kind of supplement regimen.
Dry And Wet Food For Your Dog
Dry or wet foods for canines are the most expensive foods in the market. These are specially made to fulfill the natural diets of your pet. The debate between dry and wet food is going ever since.
On the one hand, there are those people who prefer wet foods are the best as they contain moisture. On the other hand, there are those who say dry foods are better as it contains more nutrient value per kibble. However, both stands in their own specific best place and holds their own importance.
Dry Dog Food
Dry dog food have a lot of advantages. They are more economical and easy to give your dogs since they won't be able to spoil it. You can give them a cup full of dry foods in the morning and still feel safe about the floor not being dirty.
Some Best Dry Foods Your Chows Can Have
Blue Buffalo's Lamb and Brown Rice.
Solid Gold's High Protein W/ Duck
AvoDerm's Senior Chicken And Brown Rice
Fromm Large Breed Puppy Hood.
Wet Dog Foods
The major issue with wet dog foods is that they contain too much moisture and contains less nutritional value compared to dry kibbles. Adding to that, it is more expensive than dry foods. Moreover, they spoil easily. This does nit mean that they are bad for your pooches but are very beneficial to dogs who are sick, labor and delivery or recovering from an illness.
Some Best Wet Dog Food Brands For Your Dog
Nutrish's Super Premium Wet Food For Dogs by Rachael Ray.
Moist and Meaty Burger with Cheddar Cheese Wet Dog Food
ALPO Chop House Wet Dog Food by Purina
Pedigree's Chopped Ground Dinner Adult Wet Dog Food.
Nature's Recipe's Chicken Recipe in Broth Wet Dog Food.
Tips To Feed Your Chow Chow's Puppy
In Chow's puppy days, you should feed smaller portions dividing it into 3 times a day. When we say smaller amounts, it means 280-300 k/cal per day broken into three meals. This is just for the early stages when your chow chow is 10 lbs.
Once your puppy is larger and reaches 40 lbs, you can feed your chow chow up to 1230 cal per day.
After your pup is full grown up, a lot of people refer feeding their dog once a day. However, you can split the meals and make it two.
The most important thing about feeding your chow chow is to be consistent.
Why Is Your Dog Not Eating?
There are many reasons why your dog isn't eating. However, the most common problem is when he loses his appetite, behavioral traits, and medical problem.
Medical Reasons
Digestive problem like vomiting and diarrhoea.
Bacterial or viral infections.
Urinary tract infections.
Diseases of liver– chronic hepatitis and cirrhosis.
Pancreatitis.
Worm infestation.
Behavioral Reasons
A new addition of human or canine to the family.
Stress linked to new owners.
Change of the environment.
Separation anxiety when the owner is away for many days.
Foods You Should Avoid Giving Your Chow Chow
Dogs love eating what we are eating. They love human foods and we give them often as a treat. But there are some foods that might not go well with their digestive system and may get poisonous to your dog.
Some Foods You Should Avoid Feeding Your Chow Chow.
Avocados: Avocados can cause diarrhea and tummy pain to your fluffy Chow Chow.
Chocolate: Chocolate contains a stimulant called theobromine, which affects the central nervous system and cardiovascular of the dog.
Macadamia Nuts: Macadamia can cause tremors and muscle weakness in Chow Chow.
Salty Foods: You should avoid giving your chows too much salty foods. Its not good for us as well as for your dogs.
Potatoes: Potatoes contain solanine which can cause vomiting, abdominal pain, depression, and cardiac arrest.
So, these were some inside information about what to give and what not to give your Chow Chow dogs.
For More Dog Diet Information, Visit Doglime.
Others