Drentsche Patrijshond Diets and Supplements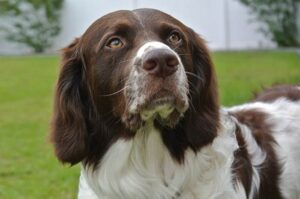 Feeding
Drentsche Patrishond is a medium-sized breed with a very active and energetic temperament. Their feeding method must be changed as they grow from puppyhood to adulthood. Likewise, a proper and balanced diet must be fed for their proper growth and development.
There is various dog food that can be fed to them like kibble, raw, home-cooked, canned, and many more. You can also ask for food recommendations from your veteran for their diet. In this article, you'll get more information about their feeding process and method.
Diets
Protein: It is a very important part of a dog's diet as it enables to build of muscle, hair, skin, coat, and so on. In addition, it contains an amino acid that helps bone and muscle to grow along with supporting cell and nerve function. Protein can be given through both plant and animal sources like meat, egg, tofu, Green Peas, and others. Around 18% of protein is enough in their daily diet.
Fats: Fats are another essential nutrition that fuels their muscles and provides energy for daily activities. It helps their body to regulate properly and perform at a high level with greater capacity. Around 5-8% of fats is sufficient as per their activity level. Feed them chicken, fish, milk, Quinoa, Lean meat, flaxseed, soybean oil, and corn.
Water: Water is also a nutrient that needs to be in a dog's diet as it helps in digestion and absorption of the nutrient. It also breaks down food into smaller parts and regulates body temperature, Water deficiency leads to dehydration and their body won't function properly. Make sure their water is available every two hours as an excess activity makes them thirsty.
How Much To Feed Drentsche Patrijshond
The feeding of Drentsche Patrijshon d depends on their age weight, energy, and health. These breeds gain weight so, don't overfeed them and limit their feeding. In addition, stick to their regural routine and give sufficient amount of food. Always remember not to leave food out during the day and control their treats during training.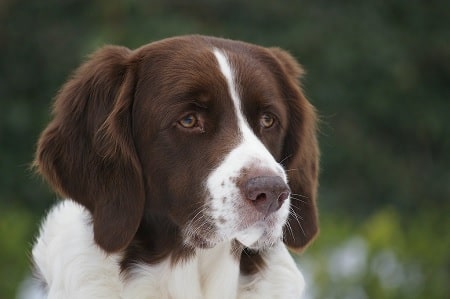 At puppy phase, feed 4 meals a day for their proper development. Likewise, when they reach around 3-6 months feed 3 meals a day as overfeeding can lead to obesity. For dogs older than 6 months, only feed 2 meals a day as the adult's diet must match with their activity level. Moreover, ask your veteran for a complete diet chart for them if it's difficult to manage their feeding.
Dog Food For The Drentsche Patrijshond
The list of available dog food is very long in the market however, choosing the right one is very important. After all, it's for your dog's health. While buying always remember to check ingredients that are high in overall nutrients. In addition, choose premium high-quality dog food as the ingredient in them are very effective.
ORIJEN Original Grain-Free Dry Dog Food
Stella & Chewy's Chewy's Chicken Dinner Patties Freeze-Dried Raw Dog Food
American Journey Salmon & Sweet Potato Recipe Grain-Free Dry Dog Food
Zignature Limited Ingredient Formula Grain-Free Trout & Salmon Meal Dry Dog Food
Supplements For The Drentsche Patrijshond
Supplements are the tablet that's given if a dog lacks adequate nutrient through their daily diet. However, if they are getting enough nutrients then don't feed any supplements. Too much or lack of supplements in their body is dangerous as their body won't function properly.
Glucosamine
Multivitamins
Antioxidants
Probiotics
Fish Oil
Human Food That Drentsche Patrijshond Can and Cannot Eat
The food we humans consume doesn't always benefit them as some can be very toxic to their health. Check the list of food that can be eaten as some can get serious allergies or serious health problems. Here is the list of some human food that Drentsche Patrijshond can and cannot consume.
Can Eat
Meat
Eggs
Fish
Blueberries
White Rice
Banana
Dairy Products
Cucumber
Carrots
Popcorn
Cannot Eat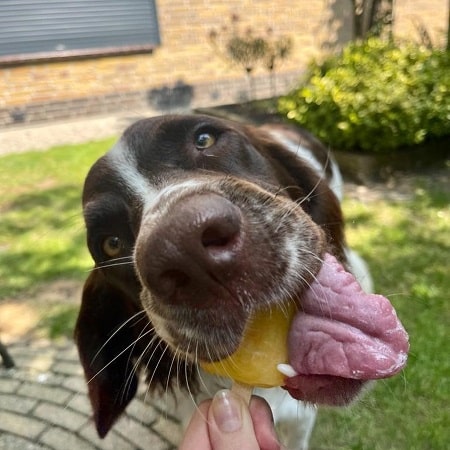 Avacado
Caffine
Garlic and onions
Raisins and grapes
Ice-cream
Cinnamon
Chocolate
Citrus Fruits
Why is Your Drentsche Patrijshond Not Eating?
There are many reasons when your Drentsche Patrijshond is not eating properly. They go through many changes so their health problem can vary due to several reasons. In addition, if they aren't eating for more than 2 days then immediately take them to a veteran for a proper checkup. Below are some of the common reasons your dog grows through.
Behavioral Reasons
Separation Anxiety
Travel and unfamiliar surroundings
Stress
Dietary change
Change in Routine
Undesirable food
Depression
Medical Reasons
Bacterial, Worm, or viral infections
Eating Something They Shouldn't
Injury
Dental Problem
Broken Bones
Ear Infection
Urinary tract infections
Fleas and ticks
Visit here at Doglime for more feeding methods
Others