Country of Origin
Canada
Nicknames and Other Names
Little River Duck Dog
Yarmouth Toller
Tolling Retriever
Toller, Duck Toller
Little Red Duck Dog
Scientific Name
Canis lupus familiaris
Breed Type
Purebred
Group
Gun Ddogs
Sporting Group
Bred For
Tolling duck
Size
Medium-sized
Recognized By
AC, UKC, CKC, KC, FCI, NZKC, ANKC
Life Span
12-14 years
Ideal Weight
35-50 pounds (male and female)
Ideal Height
Male: 18-21 inches
Female: 17-20 inches
Fur Type
Water-resistant double coat,
medium length outer coat,
soft, dense undercoat
Common Colors
Red Gold, Red, Buff
Markings
White markings
Availability
Widely available
Achievements
Provincial dog of Nova Scotia
Suitable for Apartments
Not Suitable
Used in World War
No
Most Similar To
Golden Retriever
Nova Scotia Duck Tolling Retriever looks like a Golden Retriever, but with a more copper-colored coat and white markings. Compared to Golden Retrievers, Nova Scotia Duck Tolling dogs are less submissive, less outgoing with strangers and less adaptable to a low-exercise household.
The Nova Scotia Duck Tolling Retriever needs lots of exercises, especially fetching and swimming. They are best suited for homes with an active family who can give them enough time and proper exercise. Before adding there are certain things you need to know about the breed Nova Scotia Duck Tolling Retriever.
Origin and History
The original Nova Scotia Duck Tolling dogs were developed in Scotia to retrieve waterfowl. The toller has been used as a domestic companion since 1800s.
Canada's Micmac Indians observed these tollers performing tolling behaviors on the shores or rivers and lakes and started admiring their talent and made them skilled in their own field. In 1945, the Canadian kennel club gave the breed a new name, Nova Scotia Duck Tolling Retriever.
The Nova Scotia Duck Tolling Retriever breed came first to the United States in the 1960s and by 1984, the breed had enough fans that the Nova Scotia Duck Tolling Retriever club the USA was formed. The American kennel club accepted the breed in 2001 and into the sporting group in 2003. Today the breed ranks 110th among 155 breeds recognized by AKC.
Are Nova Scotia Duck Tolling Retriever Child-Friendly?
Yes, Nova Scotia Duck Tolling Retrievers are child-friendly because they are playful, lively and full of energy. They love playing and jumping around with kids in the yard. Tollers are very protective of their playmates and will tend to protect them. Children who can teach them new tricks and games will relatively become their best friend since they love learning new things and being occupied.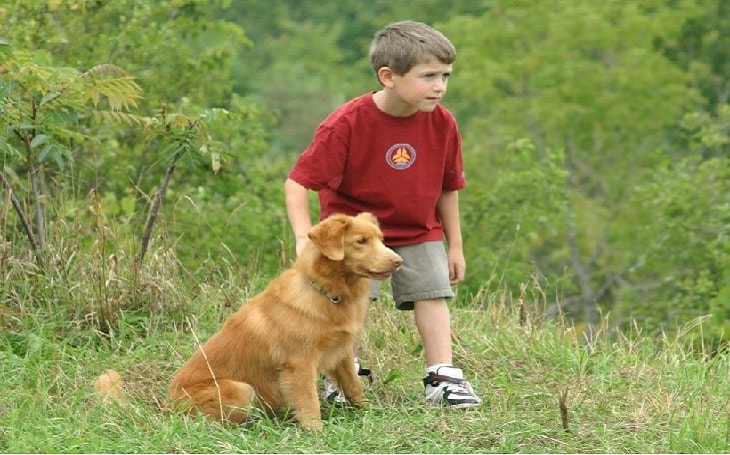 Nova Scotia Duck Tolling Retrievers should be socialized taught properly on how to behave properly with kids. You should also teach your child how to approach a dog.
Behavior, Temperament, And Personality
The behavior of Nova Scotia Duck Tolling Retriever is defined as smart, independent, curious, outgoing and an upbeat attitude. They are smart enough to differentiate between wrong and right. These waterfowl dogs have never-ending energy which makes a perfect companion for active families and hunters as well.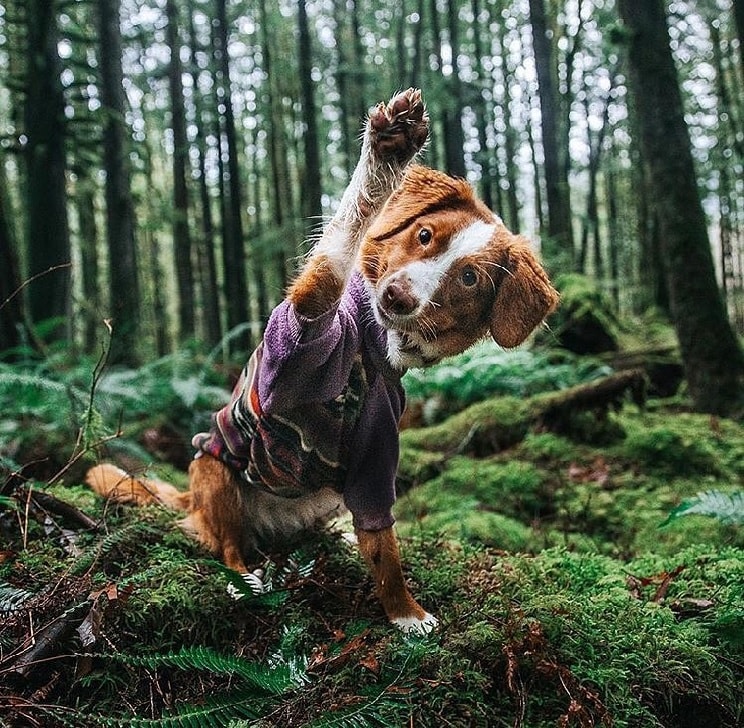 The personality of Tolling Retriever lies somewhere between that of Golden Retriever and a terrier. They are adaptable, moving from one environment to another with ease and tolerant of crate training and travel. They can be wary of strangers but will wait for the cues from their people. They watch everything that is going on and will alert you if someone is approaching the territory.
The temperament of Nova Scotia Duck Tolling Retrievers depends on how they are socialized in the home. The early socialization makes them playful, curious and watchful. Similarly, obedience training helps them behave friendly with children and become established as a great watch guard. Nova Scotia doesn't like being alone for a long time. They will need their family to entertain themselves as well as to be happy. Tollers may develop separation anxiety and may lead to destructive behavior.
Trainability
The Nova Scotia Duck Tolling Retriever is highly trainable. They are very attentive to whatever you teach them and command them. These breeds are very intelligent, smart and quick learners which makes training very easy and fun. An owner needs to make sure that the dog knows who is the boss, but once they do, they are the perfect companion for any household.
Firm leadership and patience are required for Nova Scotia Duck Tolling Retrievers as these rambunctious breeds may test the patience of their leader. Positive reinforcement training is the best way to keep them motivated and interested in training.
Facts of Nova Scotia Duck Tolling Retriever
Some of the facts related with Nova Scotia Duck Tolling Retrievers are as follows:
The meaning of the "Tolling" word is, entice or pull.
Previously, the Nova Scotia Duck Tolling Retriever was known as the "Little River Duck Dog".
These breeds have webbed feet and a double coat.
Health Issues
General Health
Healthy
Common Health Issues
Obesity, Hip Dysplasia, Patellar Luxation, Bloat
Hypoallergenic
No
Vaccination Required
Rabies, Canine Distemper,
Canine Parainfluenza,
Kennel Cough, Canine Coronavirus,
Canine Parvovirus, Leptospirosis
Shedding
Moderate Shedder
Drooling
Low Drooler
Grooming
Easy and Minimal Grooming Required
Weight Gain Potential
Average to High
Separation Anxiety
High Chance
Allergies
None
Diets and Supplements
Protein: 23%
Fat: 8%
Glucosamine
Probiotics
Digestion Enzymes
Nova Scotia Duck Tolling Retrievers are generally healthy but like other breeds, they are prone to given health problems:
Hip Dysplasia: It is a condition in which the thighbone does not fit into the hip joint. Since Nova Scotia are so energetic and working breed, they may get prone to hip dysplasia when they age.
Progressive Retinal Atrophy: It is a degenerative eye disorder that causes blindness.
Collie Eye Anomaly: It is an inherited condition that can lead to blindness.
Deafness: The deafness can be seen between 7 to 8 years of ages.
Color Patterns
Nova Scotia Duck Tolling Retrievers are found in following different colors:
Puppies
Nova Scotia Duck Tolling Retriever gives birth to 6 to 10 puppies.
Cost of Nova Scotia Duck Tolling Retriever Puppies
The average cost of the Nova Scotia Duck Tolling Retriever dogs is about $1,800 to $2,000 USD.
Size
The female Nova Scotia Duck Tolling Retriever is about 42 to 51cm tall whereas the male is taller than females standing up to 45 to 54 cm tall.
The average weight of male is about 20 to 23 kg.
Which Dog Breed Are Similar To Nova Scotia Duck Tolling Retriever?
Some of the breeds similar to Nova Scotia Duck Tolling retrievers are as follows:
Labrador Retriever
Nederlandse Kooikerhondje
Visit Doglime to know more about different dogs breed.
Tags:
Medium Sized Dogs