Pug-A-Pom (Pomeranian Pug Mix) Dog Breed Information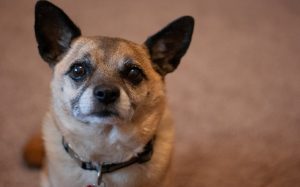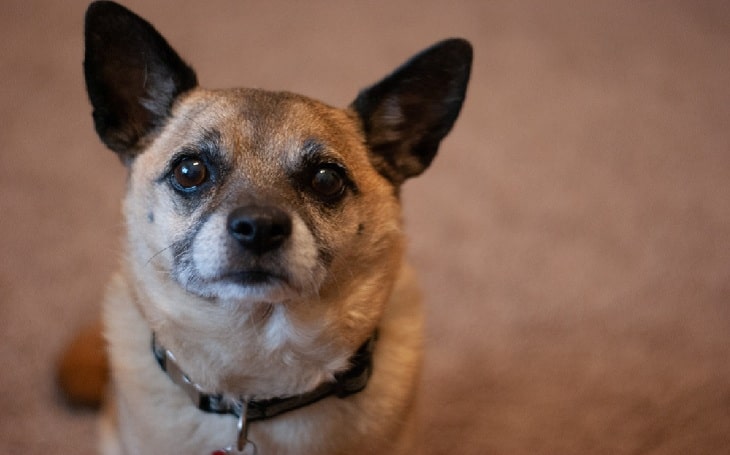 Doglime
Country of Origin
United States
Nicknames and Other Names
Pomapug, Pug-A-Pom, Pom A Pug,
Pugeranian, Pom-Pug, Pugpom, Pugapom
Scientific Name
Canis Lupus Familiaris
Breed Type
Crossbreed
Group
Crossbreed
Bred For
Family Companion
Size
Small-Sized
Recognized By
ACHC, DBR, DRA, DDKC, IDCR
Life Span
8-15 Years
Ideal Weight
5-16 Pounds (male and female)
Ideal Height
8-13 Inches (male and female)
Fur Type
Medium and Smooth, Short and Smooth
Common Colors
Black, Fawn, Black and Tan
Markings
Scattered Markings
Availability
Moderately Available
Achievements
None
Suitable for Apartments
Yes
Used in World War
No
Most Similar To
Pug
Pomeranian
The Pom-A-Pug is a beautiful mix of the two small breeds: Pomeranian and Pug. It is a small-sized dog that characteristics and traits depend on its dominant parent.
It is also popularly known by many names like Pomapug, Pom A Pug, Pugapom, Pugpom, Pug-Pom, Pompug, Pom-Pug, Pugeranian.
The appearance of the Pug-A-Pom is mixed where it might get the short muzzle like the Pug with some wrinkled snout. The body built is lean with a thick and strong neck. The tail is slightly curly and the coat comes from smooth to semi-coarse.
Due to its size and moderate activity level, it does great in an apartment with its loving people.
Temperament, Behavior, and Personality
Temperament: The temperament of the Pug-A-Pom is loyal, intelligent, and friendly. It gets the comical and playful nature from Pug and outgoing, fun nature of Pomeranian. It makes an excellent companion for a family who is looking for a fun and entertaining at the same time loving and loyal small dog.
Behavior: The Pug-A-Pom thrives on the love and attention of its people. So if they are ignored and are not provided with love and affection, it will affect their mental health. They can become depressed and destructive by chewing on stuff, constant barking, and whining. Therefore, it is necessary to give them all the attention and love that they crave for.
Personality: The personality of the Pug-A-Pom is loving, cheerful, and sweet. It gets along with people in the house as well as other pets very well. It is very friendly and playful so it makes an excellent companion for small kids to old people. They are happy while playing and walking, so take them out in the park and walk regularly.
Is Pom-A-Pug Child-Friendly?
Pom-A-Pug is great with kids as they are very lively and active dogs that love playing with children. They enjoy their company and can play all day long with kids by their side. Although, small kids can play rough and be harsh on them by pinching and pulling their skin. It can hurt your dog, which can even make them aggressive. So it is important that an elder is always there to supervise them.
Trainability
Pom-A-Pug is not a difficult dog to train as they are eager to please their owners. They are smart enough to catch on command and instruction quickly. They can be stubborn sometimes, so to keep them focused and interested in the training, reward them with treats.
Suggestion: Use lots of vocal praises as a source of motivation. Never be harsh or forceful on them as it will only make them scared. So, be gentle and train them with patient and consistency.
Facts
The Pom-A-Pug is a designer breed that is developed somewhere in the 1990s, so it is not a widely popular breed.
It is believed to be created in the United States when designer breeds were on-trend.
Health Issues
General Health
Healthy
Common Health Issues
Hip Dysplasia, Elbow Dysplasia,
Cataracts, Patellar Luxation, Hypothyroidism
Hypoallergenic
No
Vaccination Required
Rabies, Canine Parainfluenza,
Canine, Kennel Cough, Canine Parvovirus,
Leptospirosis, Canine Distemper
Shedding
Moderate Shedder
Drooling
Low Drooler
Grooming
Minimal Grooming
Weight Gain Potential
Low Chance
Separation Anxiety
High Chance
Allergies
None
Diets and Supplements
Protein: 18%
Fat: 8%
Glucosamine
Probiotics
Fish Oil
Azodyl
The Pom-A-Pug has a life expectancy of 8-12 years. In these years, it can inherit some of the following canine diseases:
Patellar Luxation: Itis caused when the kneecap of your dog is dislocated from its original location. The signs are lameness in the start and slowly move to sharp pain while trying to stand and walk. If you see your dog is having a problem in walking, take it to a vet for proper treatment.
Cataracts: It is a condition where cloudiness forms in the eye of your dog. It is not a very dangerous health issue and does not always require cataract surgery. Nutritional supplements at vets recommendation can help a lot in clearing the vision but if nothing changes, you have to move to the surgery after consulting a veterinarian.
Colors
The Pom-A-Pug comes in the following colors:
Black and Tan
Fawn
Black
Beige
Scattered markings
Puppies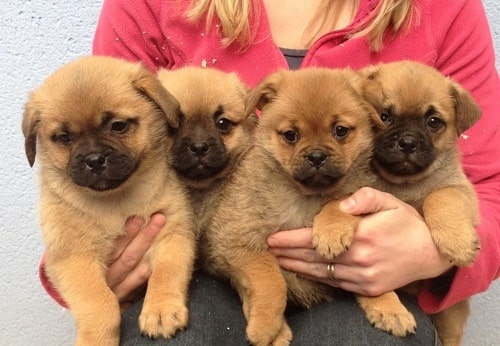 Cost: The average cost of the Pom-A-Pug is between $500-$800 USD.
Size
Height: The average height if the Pom-A-Pug is between 8-13 inches.
Weight: The average weight of the Pom-A-Pug is between 3-18 pounds.
Similar Dog Breeds to Pom-A-Pug
Visit Doglime for more hybrid dog breeds information.
Others