Pomeranian Dog Breed Information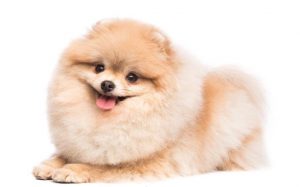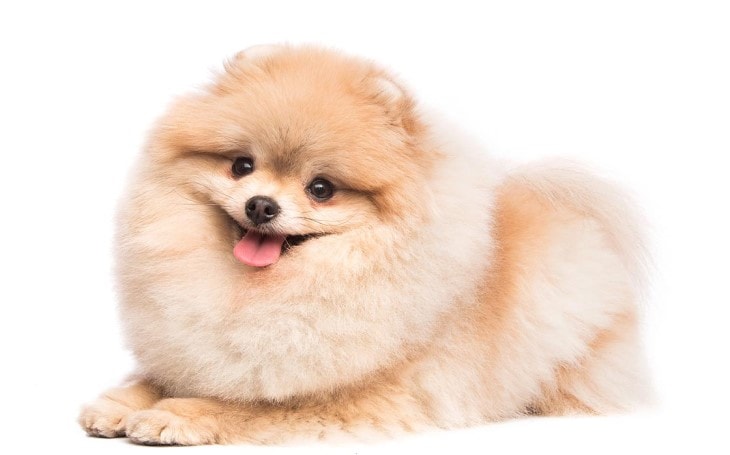 Breeds
Country of Origin
Germany
Poland
Nicknames and Other Names
Pom, Spitz Nain, Deutsche Spitze,
Pom Pom, Zwergspitz, Spitz Enano
Scientific Name
Canis lupus familiaris
Breed Type
Purebred
Group
Companion Group
Toy Group
Bred For
Lapdog
Size
Small-sized
Recognized By
AKC, FCI, CKC, ANKC, NZKC, UKC, KC
Life Span
12-16 years
Ideal Weight
3-7 pounds (male and female)
Ideal Height
6-7 inches (male and female)
Fur Type
Dense, medium length, harsh texture
Common Colors
Beaver, Blue, Blue Sable, Chocolate Tan,
Blue and Tan, Cream, Red, Orange Sable,
Orange, Cream Sable, Blue Merle, White
Markings
Parti-Color, White markings, Sable,
Mask, Tan markings, Irish markings,
Brindle
Availability
Widely available
Achievements
One set the record of the fastest dog
Suitable for Apartments
Yes
Used in World War
No
Most Similar To
German Spitz
Pomeranian is a cute small dog breed with a colorful history. They are considered to be an ideal companion with a beautiful smile, glorious coat, a face that resembles a fox and a lively personality which make them one of the most popular toy breeds.
The foxy-faced dogs are active and even though they are small they require regular exercise and thrive of training. Pomeranians are small in size but sometimes they forget about their size and will challenge larger dogs.
Origin And History Of Pomeranian
The dog Pomeranian occurs from the region of Pomerania (an area of Poland and Germany). This breed is categorized to be Spitz breed of dogs.
It is quite surprising to know that the original Pomeranian were much larger, weighing approximately about 30 pounds and were bred as sheepherders.
Kennel Club first recognized this breed in 1870. In 1888 Queen Victoria started breeding this dog breed and it was she who made this breed quite popular in England. AKC first recognized this breed in 1888.
Are They Child-Friendly?
These little breeds are very bold and active who loves to play most of their time and are best suited in families with older children. Breeders often refuse to sell Pomeranian puppy to families with small children as they are very tiny in size and too easily get injured if they are accidentally dropped or stepped on by a child.
If you have small children in your family, teach your children how to approach them, and always supervise their interactions to prevent accidents. If these measures are followed then Pomeranian tends to be the best playmate for your children.
Temperament, Personality, And Behavior
The temperaments of Pomeranian is playful, active, sociable, friendly and extroverted. Their activity level makes them a perfect pet for someone who wants a small dog with a large dog personality.
Because they are small in size, they are well suited for apartment living where they can get enough exercise indoors, but they are happiest when they get chance to go for long walks and play with other small dogs.
Pomeranians are extremely athletic and can frequently participate in dog sports including agility, obedience, rally, and tracking. They have a very smart and vivacious personality who loves meeting new people and gets well with other animals.
Interestingly the little Pomeranian's are alert and inquisitive, which makes them good watchdogs. Although, they are not aggressive but will definitely bark at anything they find different
Trainability
Pomeranians are fairly easy to train dogs as they thrive in training. But you should remember that Pomeranians have a short attention span, so keep training sessions short and fun. Reward them with praise and treats whenever they perform correctly, this will help you to motivate them.
When it comes to housetraining, it does not always come easy to the Pomeranian as they are stubborn and will go outside to potty, especially if it is the cold or rainy season. So teach them good manners and obedience training from an early age.
Facts
Interesting facts about Pomeranian are:
Pomeranians were n't always so tiny before they used to weigh as much as 20 to 30 pounds.
Martin Luther, a leader of the Protestant Reformation has owned a Pomeranian named Belferlein whom he often mentioned in his writing.
They make wonderful therapy dogs.
They are also known as Poms or Pom Poms.
Health Issues
General Health
Healthy
Common Health Issues
Patellar Luxation, Cataracts, Epilepsy,
Progressive Retinal Atrophy,
Dry Eye, Heat Intolerance
Hypoallergenic
No
Vaccination Required
Rabies, Canine Parvovirus, Canine Distemper,
Canine Parainfluenza, Kennel Cough,
Leptospirosis, Canine Coronavirus
Shedding
Moderate Shedder
Drooling
Low Drooler
Grooming
Average Grooming Required
Weight Gain Potential
Average to High
Separation Anxiety
High Chance
Allergies
Skin Allergy
Diets and Supplements
Protein: 22% for puppy and 18% for adult
Fat: 8% for puppy and 5% for adult
Antioxidant
Digestive Enzymes
Glucosamine
Some health problems your Pomeranina prone to suffer from are:
Allergies: Some Pomeranians can suffer from a variety of allergies, ranging from contact allergies to food allergies.
Epilepsy: Some Pomeranians develop epilepsy and have seizures
Eye Problems: Pomeranians are prone to a variety of eye problems, including cataracts, dry eye and tear duct problems.

Color
Pomeranian are generally found in six color patterns, such as:
White
Black
Tan
Orange
Brown
Grey-sheded
Puppies
The Pomeranians give birth from 1-5 puppies at a time. If you are planning to add a Pomeranian puppy then it can cost you somewhere between $500-$1500 USD.
Which Dogs Are They Similar To?
Dogs similar to Pomeranian are:
Visit Doglime For More Dog Breed Information.
Others