Sabueso Español Dog Breed Information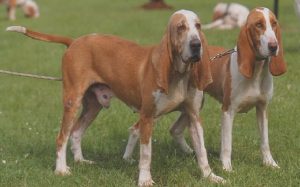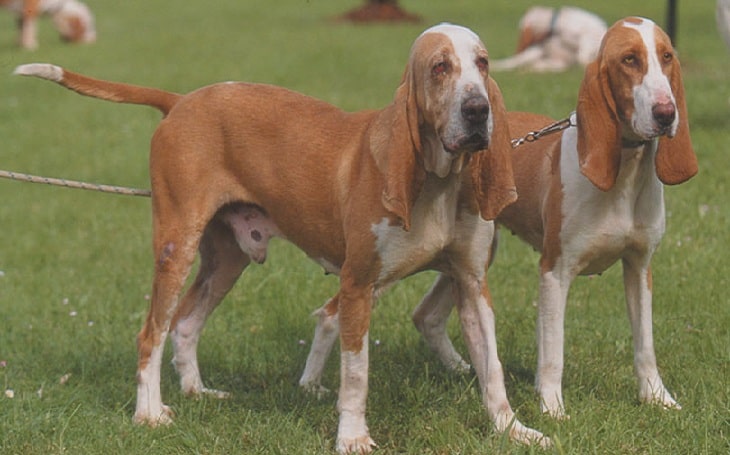 Breeds
Country of Origin
Spain
Nicknames and Other Names
Spanish Scenthound
Scientific Name
Canis lupus familiaris
Breed Type
Hunting Dog
Group
Scenthound
Bred For
Hunting Through Scent
Size
Medium-sized
Recognized By
FCI, UKC
Life Span
12-14 Years
Ideal Weight
Male: 22-25 Pounds
Female: 20-23 Pounds
Ideal Height
Male: 20-22 Inches
Female: 17-20 Inches
Fur Type
Short, Dense, Smooth
Common Colors
Tan, White, Red, Black
Markings
Tan Markings
Availability
Rarely Available
Achievements
Appeared in various
Spanish Hunting books
Suitable for Apartments
No
Used in World War
No
Most Similar To
Basset Hound
Sabueso Español which is also commonly known as Spanish Scenthound is a medium-sized dog with a sturdy and muscular body. Their ears are long, eyes look serious and the lips are drooping. The body is longer than it is tall with powerful limbs that give them an athletic ability.
Although Sabueso Español is kept often as a working dog rather than a companion dog, it has all the quality of being an excellent family pet. With it's sweet, loving, and calm nature, there is no doubt that it also makes a great family pet and not only an excellent hunter.
Origin and History
The first description of Sabueso Español was in the book Libro de la Montería de Alfonso XI (The Hunting Book of Alfonso XI) in the 14th century. They were used for hunting wild boar, brown bear and also used for tracking wounded game by hunters called Ballesteros who used crossbows as a hunting weapon.
Sabueso Español is a native of the north of Spain where it is frequently known as Spanish Scenthound. This breed was only bred for one purpose and that is hunting. Even today, you will see that they are only used as a hunting dog in Spain than as a pet.
It is not a common dog breed outside Spain. It has been recognized by the United Kennel Club and FCI as a member of the Scenthound Group.
Temperament, Behavior, and Personality
Temperament: The temperament of the Sabueso Español is sweet, loving, calm, and royal. As it is not much kept as a family pet, it is most suited in ruler areas and with hunters. They need a lot of space to roam around and follow the scent of something interesting until its heart is content.
Behavior: Since Sabueso Español is a scenthound, it is very natural for them to follow any unusual scent that their keen nose catches. So, sometimes they might go far from their place just tracking the scent.
Personality: The personality of the Sabueso Español very courageous, devoted, and energetic. They are very much devoted to their human beings. While they love being by their side most of the time, they also appreciate some time all by themselves. Since they were used for hunting in a pack, they get along well with other pets too.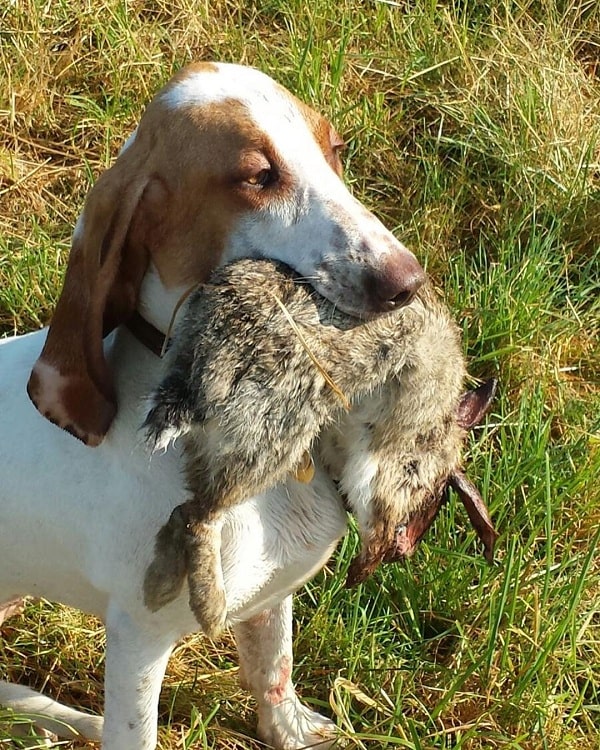 Trainability
Training Sabueso Español is not for an inexperienced or a novice dog owner. They need a leader that can train them with patient, firmness, and consistency. They are a highly intelligent dog breed, so mental stimulation is necessary by challenging them mentally.
While training, use positive reinforcement as a method of training to motivate them and keep them focused on the training session.
Is Sabueso Español Child-Friendly?
Sabueso Español is a highly energetic dog that is not good for small children as it might cause accidents and injuries. They are also not so tolerant of the small kid's harsh behavior, so it is not a great idea to keep a Sabueso Español in a house with small children. They are more suited to older children who know to behave around dogs and handle them gently.
Facts
Sabueso Español is not in many numbers outside Spain and is not popular widely.
It has not been recognized by the American Kennel Club yet.
Health Issues
General Health
Healthy
Common Health Issues
Bloat, Ear Infections, Glaucoma, Hip Dysplasia
Hypoallergenic
No
Vaccination Required
Rabies, Canine Parainfluenza,
Canine Coronavirus, Canine Parvovirus,
Leptospirosis, Canine Distemper, Kennel Cough
Shedding
Moderate Shedder
Drooling
Moderate Drooler
Grooming
Minimal Grooming Required
Weight Gain Potential
High
Separation Anxiety
Low Chance
Allergies
None
Diets and Supplements
Protein: 23%
Fat: 10%
Glucosamine
Probiotics
Azodyl
Fish Oil
Sabueso Español is prone to a few possible canine health problems which can be the following:
Ear Infection: Sabueso Español has long ears that are very likely to catch bacteria from sniffing the ground. Therefore, do not forget to clean their ears as soon as they are home from outside.
Obesity: Obesity is caused due to overeating and less exercise. It occurs mostly to dogs that have a high exercise requirement like the Sabueso Español but that eats more than perform physical exercise.
Colors
Sabueso Español comes in the following colors:
Puppies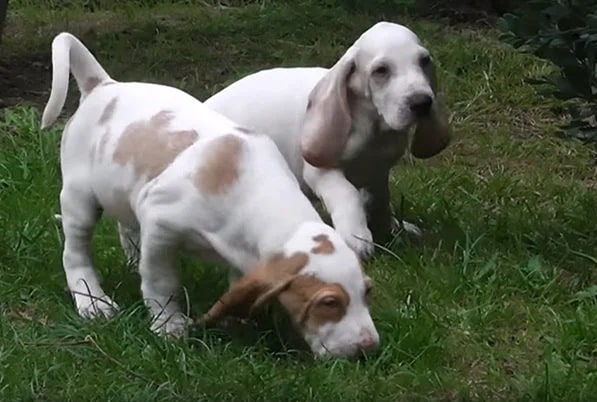 Cost: The average cost of the Sabueso Español puppy is between $600-$800 USD.
Size
Height: The average height of the Sabueso Español is between 17 to 22 inches.
Weight: The average weight of the Sabueso Español is between 20 to 25 pounds.
Similar Dog Breeds to Sabueso Español
Visit Doglime for more dog breeds information and their behavior.
Others