Small Munsterlander Dog Breed Information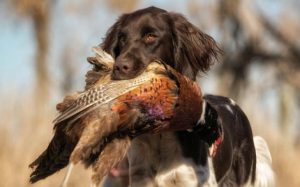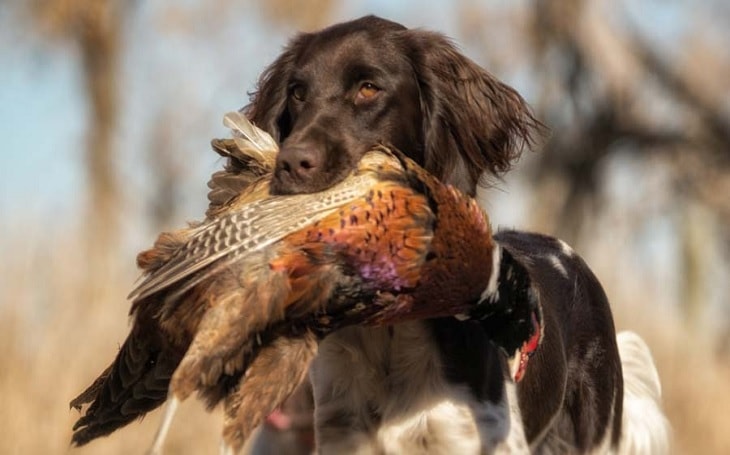 Breeds
Country of Origin
Germany
Nicknames and Other Names
Munster
Munsterlander
Kleiner Münsterländer
Spion
Vorstehhund
Heidewachtel
Scientific Name
Canis lupus familiaris
Breed Type
Purebred
Group
Gun Dog
Bred For
Hunting, pointing and retrieving
Size
Medium-sized
Recognized By
AKC, CKC, FCI, UKC, KC
Life Span
12-14 years
Ideal Weight
40-60 pounds (male and female)
Ideal Height
20.5-21 inches (male and female)
Fur Type
Dense, straight or slightly wavy,
glossy, medium length
Common Colors
Brown Roan
Brown and White
Markings
Tan markings
Patched
Ticked
Availability
Rarely available
Achievements
None
Suitable for Apartments
No
Used in World War
No
Most Similar To
Large Munsterlander
Small Munsterlander Dog is a natural hunting dog that is excellent at their hunting job. They have the ability to hunt both on land and water. If it is not working, then it is known to be a great house pet and an excellent companion for the family.
As a hunting dog, it is obvious that they are very active. Therefore, any dog owner living in an apartment should get the idea out to own Small Munsterlander. They need a yard or a space big enough to perform their regular activities.
Small Munsterlander is a medium-sized, lean and strong dog. Its muzzle is long and powerful. The ears are big, hanging on the side of the cheeks. It very much looks similar to Large Munsterlander in term of appearance but these two breeds have completely different ancestry.
Origin and History
The Small Munsterlander was originated in Germany and believed to be developed in the middle of the 19th century. It was developed by crossbreeding German Longhaired Pointer and longhaired spaniels that are known as Wachtelhunds.
It was bred as a hunting dog that hunts following its instincts, rather than based on the training. Small Munsterlander used to point out the shotted animals by following the scent of the wound and point out the game to the hunters.
The Small Munsterlander nearly disappear in World War I like many other breeds, but it was revived in its homeland and the number gradually increased.
It was recognized by the United Kennel Club in 2006. The American Kennel Club has kept this breed in the Foundation Stock Service (as of April 2019) since 2006.
Is Small Munsterlander Child-Friendly?
Small Munsterlander is very child-friendly and get along with them very well. They are tolerant of children and even small kids or toddlers. It does not mind their pulling and biting as they are loving and very gentle towards the kids.
The interaction with unfamiliar children should be supervised properly. Kids also should be taught to approach dogs and behave around them, no matter how tolerant a dog is.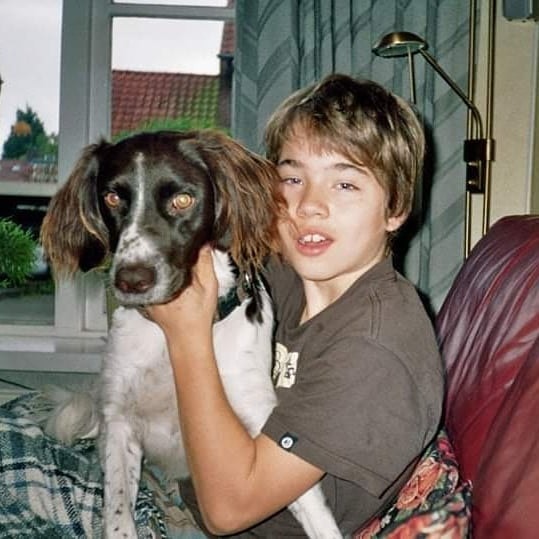 Temperament, Behavior, and Personality
Temperament: The Small Munsterlander has a happy, fun, and active temperament. They are very friendly with people and even with strangers. They greet them and welcome them by wagging their and licking them. However, if they sense any odd behavior, they tend to bark at them warning their owner. Therefore, are also taken as a good watchdog.
Behavior: As a hunting dog, Small Munsterlander requires a good amount of exercise. If they do not get the required exercise, they become anxious and sometimes even destructive by barking loudly, chewing on stuff, and scratching floors. Therefore, in order to avoid their destructive behavior and also to keep them fit a good amount of exercises should be provided to them.
Personality: The Small Munsterlander has a self-confident and adaptable personality as it can easily get along with a changing environment. However, changing the environment does not mean a closed place like an apartment where they cannot do their regular exercise needed. They are affectionate and very loving of their family, which makes them a great family pet.
Trainability
Training Small Munsterlander is not a hard job to do as long as they are provided with gentle and consistent training. They are very smart, intelligent and are eager to please their owner. To keep them focused and to keep them motivated in the training, reward them with treats and a lot of vocal praises.
Do not be harsh on them while training by beating and using harsh words. They get scared and sometimes even aggressive due to which they could not concentrate on the training. Be loving and gentle towards them even if they make some mistake.
Facts
Small Munsterlander is considered as a rare breed outside its native land Germany.
In the United States, the Small Munsterlander Club of North America is helping to guide breeds development.
In Germany, there are more than 10,000 FCI registered Small Munsterlanders.
Health Issues
General Health
Healthy
Common Health Issues
Hip Dysplasia, Vision Problems,
Ear Infection, Skin irritation
Hypoallergenic
No
Vaccination Required
Canine Distemper, Leptospirosis, Rabies,
Canine Parainfluenza, Canine Parvovirus,
Kennel Cough, Canine Coronavirus
Shedding
Moderate Shedder
Drooling
Low Drooler
Grooming
Average Grooming Required
Weight Gain Potential
Average
Separation Anxiety
High Chance
Allergies
Skin Allergies
Diets and Supplements
Protein: 25%
Fat: 8%
Probiotics
Antioxidant
Glucosamine
Fish Oil
Small Musterlander is generally a healthy breed with a life expectancy of 12-14 years. Between these ears, they might suffer from the following canine diseases:
Ear Infection: Ear infection is common in a dog with long ears and more importantly a dog that is also a scent hound like Small Muterander. While on a hunt, they are likely to get foreign particles into their ears. Therefore, the ears should be wash time to time and remove the dirt. It will keep the ears clean and avoid any kind of infections.
Hip Dysplasia: Hip dysplasia is the dislocation or underdeveloped of the hip joints. It causes a sharp pain on the back that makes moving from one place to another difficult. Therefore, if you see the problem of movements in your dog, immediately take your dog to vet for a consult.
Colors
The Small Munsterlander comes in following colors and markings according to American Kennel Club:
Brown and White
Brown Roan
Patched
Tan Markings
Ticked
Puppies
Image Source: redbubble

Image Source: www.robingunkennels.com
Cost: The average cost of the Small Munsterlander puppy is between $800-$1000 USD. However, if you consider adopting, it will cost a lot lesser which is around $300. All the expenses of taking care of the puppy are included in the adoption cost.
Height and Size: The average height of the Small Munsterlander is between 20-21 inches. The average weight is between 40-60 pounds.
Dog Breeds Similar to Small Munsterlander
Visit Doglime for more information about dog breeds history, behavior, training, and puppies.
Others