Alaskan Malamute Diets and Supplements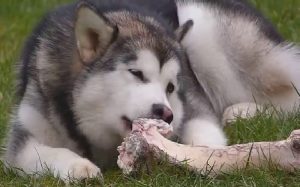 Feeding
Alaskan Malamute is a large-sized dog breed that was bred as a sled dog and still are used in many parts of the word. They are very active and energetic dog that needs good amount of diets to keep up with their energy.
Here, in this article are some information about the nutrition, amount to and what to feed and avoid giving your Alaskan Malamute.
Diets and Nutrition for your Alaskan Malamute
Alaskan Malamute, as a large dog breed, needs a properly balanced diet as to keep its body strong and healthy. The following are the nutrients that your Alaskan Malamute need:
Protein: Protein is very important for Alaskan Malamute. The raw meats are a great source of protein for it as it contains a high amount of protein. However, make sure to always feed it fresh meat as stale meat can be dangerous for its health. There are other foods for protein like vegetables, eggs, and beans but meat is best for Alaskan Malamute, unlike other breeds.
Vitamins and Minerals: Copper, zinc, vitamin A and vitamin D are very essential for healthy bones and joints. Deficiency of these vitamins and minerals can lead to abnormal orthopedic development.
Water: Water is very important to keep your dog hydrated. Dehydration can make your Alaskan Malamute weak and they can even lose consciousness. There are other wet foods that also help to hydrate your dog. Always keep a bowl of water on the side of your dog so it can drink whenever it feels thirsty.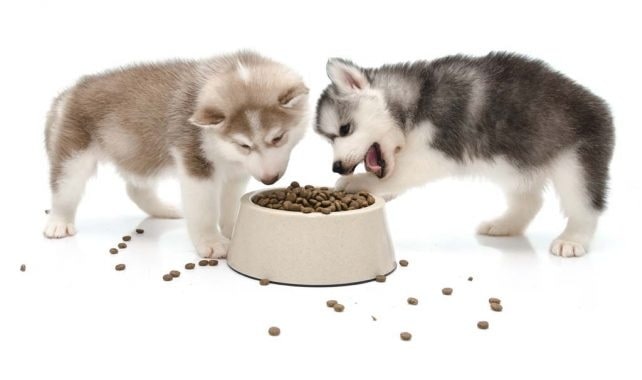 How Much Should Your Alaskan Malamute Eat?
The feeding of the Alaskan Malamute depends on their size, age, and activity level. An Alaskan Malamute puppy needs around 1-2 cups of dog food in a day as to have proper growth. Do not overfeed them as it will only make them fat, which might be dangerous for their health. Feed them in 2-3 portion per day or as required.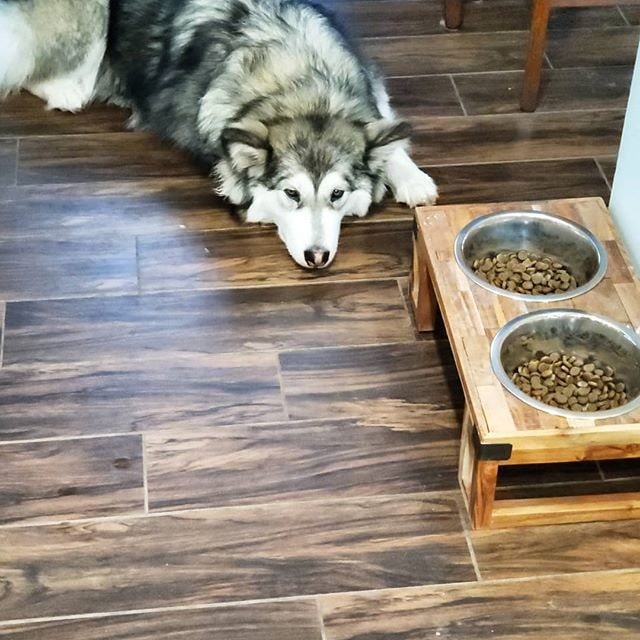 The Alaskan Malamute is large so they need food as per their size. An adult Alaskan Malamute should be given 3-4 cups of high-quality dog food per day. Divide it into 3 portions and feed them thrice a day. If it is a very active dog involving in a regular vigorous activity, then increase the quantity as required by their body. Do not feed them too much and make them fat. Overweight will lead to obesity and many other bones and joints problems.
Best Dog Food For Your Alaskan Malamute
The Alaskan Malamute should be given both dry and canned (wet) high quality dog food. Dry food helps in making their teeth strong and protecting them from cavities or tooth decay. Canned food will keep their hair shiny, skin healthy and also keeps them hydrated. There are many commercial dog food in the market and here i am listing some of the high quality dog food for your Alaskan Malamute puppy and adult.
Dry and wet puppy food for your Alaskan Malamute
Wellness CORE- Grain-Free Puppy Chicken & Turkey Dry Dog Food
Merrick– Grain-Free Puppy Plate Recipe Canned Dog Food
Blue Buffalo- Wilderness Rocky Mountain Red Meat Grain-Free Puppy Recipe
Dry and Wet Adult Food For your Alaskan Malamute
Blue Buffalo- Basics Limited Ingredient Salmon & Potato Recipe
The Honest Kitchen– Whole Grain Turkey Recipe
Whole Earth Farms- Grain Free Canned Adult Dog Food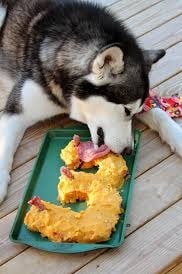 Best Supplements for your Alaskan Malamute
Supplements are not very essential unless needs to be given as prescribed by the veterinarian. If you are feeding your Alaskan Malamute with a properly balanced diet, there is no need to provide them supplements. However, there are a few conditions where you have to give supplements to your dog. If your dog is pregnant, just recovering from a sickness or having a growth problem, you should give them supplements.
Here are the list of few best supplements for your Alaskan Malamute.
Healthy Breeds Multivitamin Daily Dietary Supplement
Human Food That you Should Provide and Avoid your Alaskan Malamute
Human food is not toxic for Alaskan Malamute if given occasionally and not in a large amount. There are few human foods that are non-toxic to your dog and also few foods that are toxic and poisonous to your Alaskan Malamute.
Human Food That are non-toxic to Alaskan Malamute
Salmon
Chicken
Broccoli
Cottage Cheese
Eggs
Human Food That are Toxic to Alaskan Malamute
Chocolate
Grapes & Raisins
Garlic
Onions
Avocado
Tea or Coffee
Alcohols
Visit Doglime for more information about dog breeds and their feeding methods.
Others