Airedale Terrier Diets and Supplements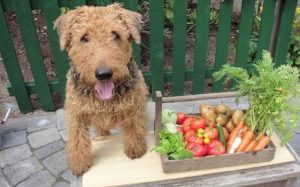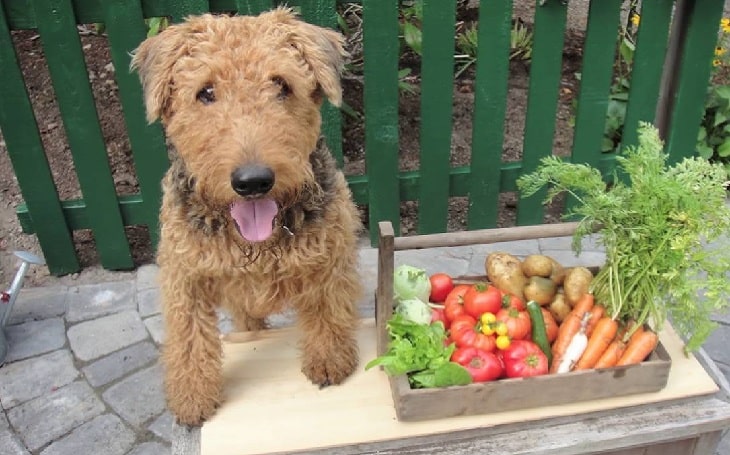 Feeding
Airedale Terrier is also known as the king of the terriers, as it is the largest of all terrier breed. It was bred as a hunting dog that used to hunt rats and otters. The male Airedale Terrier is around 23-24 inches and 51-64 lbs whereas the female is 22-23 inches and 40-44 lbs.
Airedale Terrier needs high-quality and high protein type food. The amount given should be on the limit as overfeeding can cause obesity that will invite many other diseases. Therefore, here is an article about the diets, nutrition and the ways
Diets and Nutrition for Your Airedale Terrier
A proper balanced diet and with right source of nutrition is very important for your Airedale Terrier. The following are the right diets and nutrients for your dog if given in a balanced amount.
Water: Water is very essential for dogs to live a healthy life. It is a regular need for human being as well as dogs. Dogs cannot talk and ask you for water when they are thirsty, so you should remember that and always keep a bowl of water for your Airedale Terrier.
Protein: The meat is the main source of protein for your Airedale Terrier but does not make it depend fully on meats only. There are other veggies that also are a source of protein and are very healthy for dogs. So, include some lentils and beans on their diets.
Fats: When you hear fat, the first thing you have on your mind is unhealthy. But not all fats are unhealthy and not good for your dog. Fats from fish oil which contain omega-3 is good for your dog's coat and also it is a good source of energy.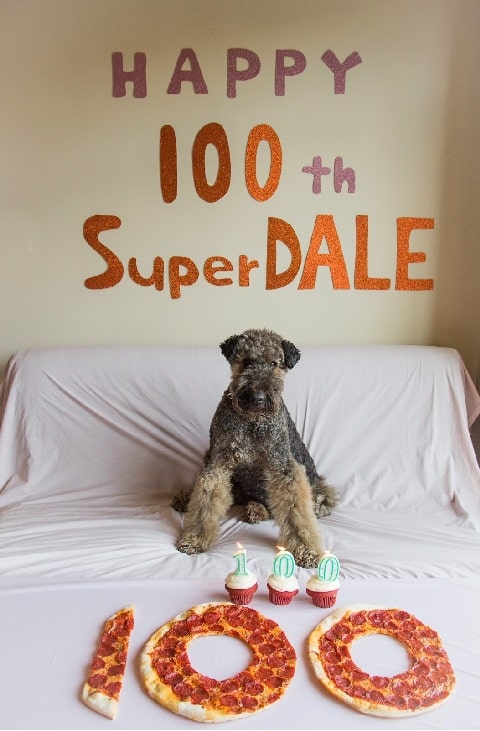 How Much Should You Feed Your Airedale Terrier?
Feeding your Airedale Terrier depends on its size and the level of activity it performs regularly. The puppy should not be fed more as they are small and will face overweight at a young age. For Airedale Terrier puppy, provide with 1 cup per day in a half amount two times a day. It will not be enough but you will be giving it some treats throughout a day. However, overfeeding a puppy treats is also not good so limit it in a small amount.
As your Airedale Terrier hits its adult age, the amount of its diet needs to be increased. Provide it with 1-2 cups of dog food regularly and increase as per its level of activity.
Best Dog Food For Your Airedale Terrier?
The dog food for your Airedale Terrier depends on their health, size, and activity level. There are two types of dog food that is dry and wet food. Dry foods are best for a dog having dental problems like bad breath. Dry food also helps in making teeth strong and gum. Whereas, wet or canned dog food helps to keep your dog hydrated. Therefore, both dry and wet foods are good for your Airedale Terrier. Here are some of the best dry and wet (canned) food for your Airedale Terrier puppy and adult.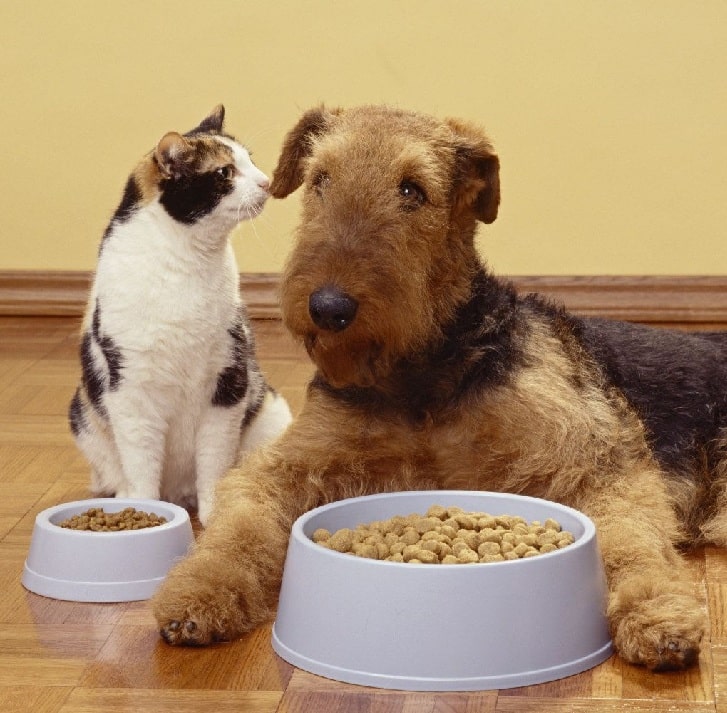 Dry and Wet food for Airedale Terrier Puppy
Acana– Heritage Puppy & Junior Formula Grain Free Dry Dog Food
Earthborn– Holistic Puppy Vantage
Royal Canin- Puppy Small Breed Wet Dog Food
Dry and Wet food for Airedale Adult Dog
NUTRISCA Grain Free– Chicken and Chickpea Recipe Dry Dog Food
NUTRISCA Grain Free– Salmon and Chickpea Dry Dog Food
VITALITY– Duck and Sweet Potato Canned Dog Food
Best Supplements For Your Airedale Terrier
Supplements are given to dog so that they get the nutrition that they are not getting from other dog food. These supplements are very good for the health of your Airedale Terrier as it controls shedding and makes their coat shiny. This also contributes to proper digestion, making joints and bones strong. However, if they are receiving a full balanced diet, there is no need to give them any supplements.
Here is the few supplements list that is good for your dog if they are not getting all the nutrition from their food.
Fish Oil- It contains omega-3 that make the coat shiny.
Glucosamine- It improves mobility and make the joints stronger.
Multivitamins- It helps to recover dry skin, itchy skin, and other skin problems.
Human Food to Provide and Avoid Your Airedale Terrier?
Your Airedale Terrier can eat human food too but in a limited amount. However, some of the food is not good for them and are highly toxic. Here are the list of the human food they can eat.
Salmon
Peanut butter
Carrots
Eggs
Cooked chicken with less or no salt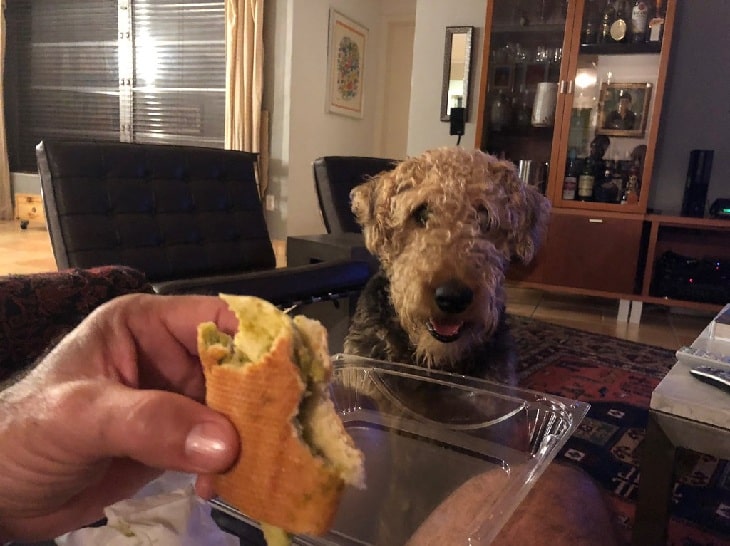 List of human food that are toxic for your Airedale Terrier.
Garlic and onion
Grapes and raisins
Chocolates
Avocado
Coffee and Tea
Nutmeg
Visit Doglime for more information about dog breeds feeding methods.
Others