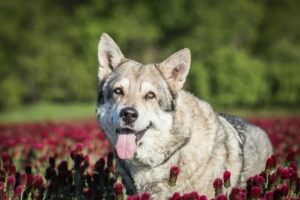 Feeding
What to feed your dog is always a big question for every dog owner especially for first-time owners. Some dogs need large diets while others are satisfied with small ones. However, every dog has a different feeding technique that should be followed. For an energetic dog like Saarloos Wolfdog, you have to look for a large-breed formula.
There are various feeding options like kibble, canned, raw, home-cooked, and semi-moist which depends on the owner and dog's preference. No matter what type you choose always remember to feed a proper and nutritional diet. Therefore, in this article, you will learn more about their feeding methods and technique that gives you a proper idea.
Diets
Protein: The Saarloos Wolfdog is a working dog breed that needs a good amount of protein in their diet to maintain their healthy diet. For a puppy feed 29-30 percent of protein daily and 24-28 percent for adults according to their daily activities. They develop tissue, organ, and muscles by making their skin, hair, and coat shiny.
Fats: Fat is a nutrient needed in a dog's diet. It helps to gain energy throughout the day from sources like vegetables, fish, flaxseed, and many more. The fat helps to improve the eyesight, make joint stronger and develops the brain. Around 8-10 percent of the fat is essential for their overall health.
Water: Along with other nutrients make sure your dog is drinking enough water throughout the day. The adult dog's body is made up of 50-60% of water as a puppy's body is made of 80 percent of water. Hence, make sure they have access to water for the entire day.
How Much To Feed Your Saarloos Wolfdog
These breeds are highly active so their feeding depends on the age, weight, and activity level. They grow rapidly in a puppy as they need proper feeding for their development. Therefore, feed 4 meals a day at a time. Then when they reach 6-8 months old, feed 3 meals a day including proper nutrition in it for their muscle and bone growth.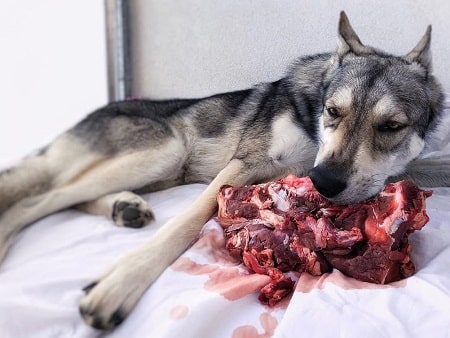 As they completely grow, limit their feeding to 2 meals per day as it should be enough for them. However, if they do an intense activity every day then increase their feeding portion. For instance, make a small portion of every meal and feed more than 2 times a day, also helps to avoid bloating and other guts problems. In addition, you even can insert snacks or treats in between his 2 meals during a training session.
Dog Food For Saarloos Wolfdog
Saarloss Wolfdog is an athletic dog but has a smaller stomach. They need smaller and frequent food in their diet that contains all kinds of nutrition healthy for them. The mixture of raw food and veggies also makes good quality food for your dog. For example, feeding raw eggs, muscle meat, bones, organs like kidney and liver, broccoli, spinach, fruits, and so on.
Above all, you can still feed kibble or packaged food from the market. But remember to choose high-quality food with all the nutrition in it. Below is the list of food suited for Saarloss Wolfdog.
Crave Grain Free High Protein dry dog food
Purina Pro Plan Puppy Large Breed Chicken & Rice Formula with Probiotics Dry Dog Food
Midwest Ovation Single Door Collapsible Wire Dog Crate
FurHaven Plush Ball Pillow Dog Breed
PetSafe Easy Walk Dog Harness
Supplements For Saarloos Wolfdog
Supplements are good to fulfill nutritional needs needed for your dog's body that they don't get for their daily diet. However, if they getting a completely balanced diet then supplements are not recommended. In other words, much nutrition is harmful to their body.
Glucosamine
Vitamins
Antioxidant
Probiotics
Human Foods Saarloos Wolfdog Can and Cannot Eat
There are times where your dog asks for food to eat off your plate. But always remember all human foods are not made for them as they can harm their health. Here is the list of foods that can be and can't be fed to your dog.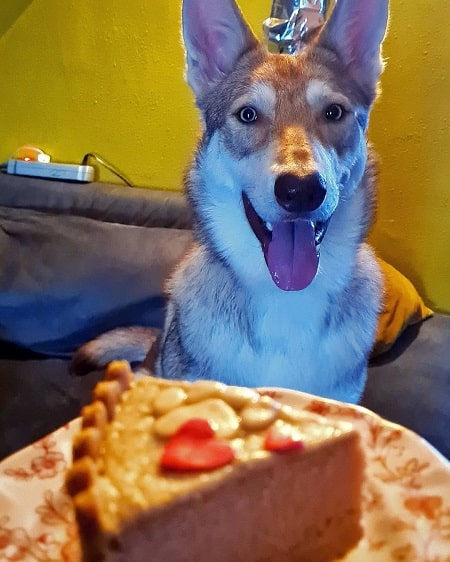 Can Eat
Meat
Fish
Egg
Turkey
Corn
Apple
Watermelon (without seeds)
White and Brown Rice
Cucumber
Cannot Eat
Chocolate
Ice-cream
Citrus Fruits
Garlic
Onion
Avocado
Caffeine
Nuts
Raisins and grapes
Why Is Your Saarloos Wolfdog Not Eating?
There are various things to consider if your dog is not eating properly. Sometimes it can be due to some behavioral reasons but sometimes it's because of medical reasons. Whatever the reason is if they don't eat for more than 2 days, take them to the vet for a checkup.
Medical Reasons
Dental problem
Worm infestations
Bacterial infections
Digestive problems
Urinary tract infections
Fleas and ticks
Broken Bones
Ear Infection
Behavioral Reasons
Stress
Dislike the taste of food
Separation anxiety from owner
Change in routine
Addition of new member or animals in the family
Sudden environmental change
Visit Doglime for more breed feeding information.
Others