Keeshond Dog Breed Information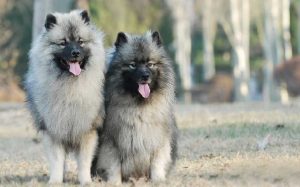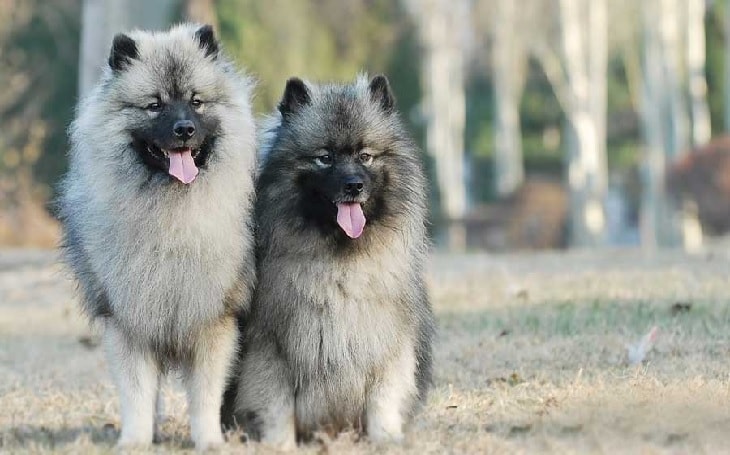 Breeds
General Information
| | |
| --- | --- |
| Dog Name | Keeshond |
| Other Names | Dutch Barge Dog |
| Scientific Name | Canis lupus familiaris |
| Breed Type | Spitz |
| Group | Nonsporting |
| Breed For | Farm Dog |
| Extinct | No |
| Country of Origin | Germany |
Physical And Size
| | |
| --- | --- |
| Size | Medium |
| Min Life Span | 12 |
| Max Life Span | 15 |
| Min Ideal Weight for male | 15 |
| Max Ideal Weight for male | 20 |
| Min Ideal Weight for female | 15 |
| Max Ideal Weight for male | 20 |
Ranking
| | |
| --- | --- |
| Intelligent Rank | |
| Trainability | |
| Playfulness | |
| Affection Level | |
| Social Needs | |
| Barking | |
| Watchdog Ability | |
| Territorial | |
| Mouthiness | |
| Adaptability | |
Characterisitics
| | |
| --- | --- |
| Temperament | Lively, Affectionate, Alert |
| Prey Drive | Yes |
| Fighting Dog | No |
Friendliness
| | |
| --- | --- |
| Stranger Friendly | High |
| Child Friendly | High |
| Cat Friendly | Medium |
| Dog Friendly | Low |
| Office Friendly | Low |
| Apartment Friendly | High |
| Senior Citizens Friendly | High |
| Service Dog | High |
| Search and Rescue Dog | High |
| Biting Potential | Low |
Country of Origin
Germany
Nicknames and Other Names
Kees, Dutch Barge Dog, Smiling Dutchman,
Wolfspitz, Deutscher Wolfspitz
Scientific Name
Canis lupus familiaris
Breed Type
Purebred
Group
Non-sporting, Spitz Group
Bred For
Farm Dog, Barge Dog
Size
Medium-sized
Recognized By
AKC, FCI, ANKC, CKC, KC, NZKC, UKC
Life Span
12-15 years
Ideal Weight
35-45 pounds (male and female)
Ideal Height
Male: 18 inches
Female: 17 inches
Fur Type
Double coat, thick ruff around the neck,
dense
Common Colors
Black and Silver, Gray Silver and Black,
Silver and Black, Wolfgray and Black,
Gray Cream and Black
Markings
None
Availability
Commonly available
Achievements
Featured in movies and cartoons
Suitable for Apartments
Moderately suitable
Used in World War
No
Most Similar To
German Spitz
The Keeshonds are beautiful dogs with long straight fur and adorable eyes. These dogs are always happy and sometimes clownish. The Keeshond will do anything to grab your attention.
Keeshond can be a good choice for families with children. If you want a dog who are sturdy with minimum exercise session then these breed may be the right choice for you.
Origin And History
The Keeshond are ancient breed originated in Holland in the early 14th century. They were developed crossing between, Samoyed, Siberian Husky, Norwegian Elkhound, Finnish Spitz, Chow Chow and Pomeranian. During the 14th and 15th centuries, they were preferred by farmers as guard and watch dogs.
In the 17th and 18th centuries, they were used as jack-of-all-trade dogs in European farms, barges, and riverboats. They were extreme barkers and great guard for children too. Not only these, but they were also skilled at herding livestock, killing rats, and vermin.
The first Keeshond was registered in the American Kennel Club in 1930, under the breed name 'Keeshonden'. The Keeshond Club of America was later found in 1935.
Are Keeshond Child Friendly?
No doubt! Keeshond are extremely good with kids. He's playful and lively with kids of all ages. If given a chance they will play the whole day running around with kids. Since they are attention seekers, they think this is the right way to grab anyone's attention.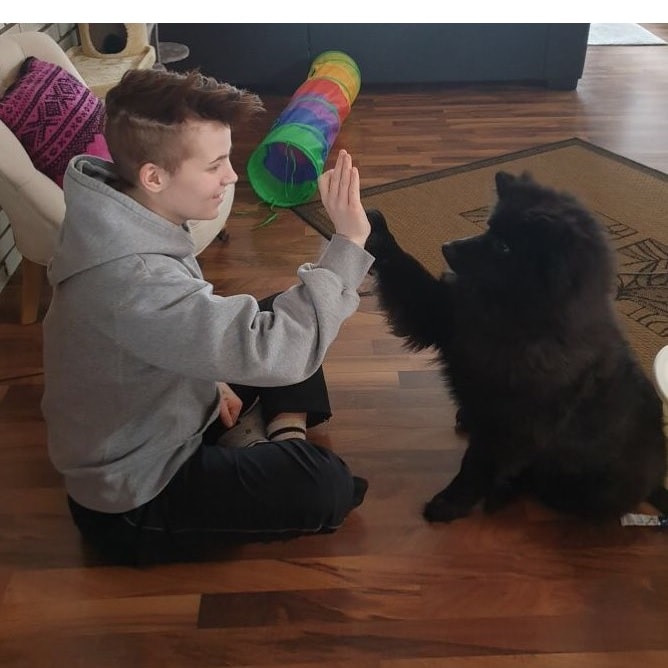 Keeshond knows how to handle and treat a child. They will become very gentle and tolerant around kids. Kees is also very protective of their playmate.
Keeshond Behavioral Traits
Keeshond is very well behaved dogs. They know what makes their owner happy and what makes them sad. Kees is never aggressive rather they are very friendly, lively and loving with everyone even with strangers.
Kees is very smart, intelligent and affectionate with cuddly and clownish behavior. They always want to be the center of attraction and are happiest when get a chance to participate in family activities.
The fluffy dogs are great eaters meaning, they are very fond of eating and will never refuse any treats when given. They are recognized as therapy dogs for autistic children which isn't a surprise since we all know their love for children is legendary.
Separation anxiety is a common problem in Keeshond. Since they love being in a pack, it is not safe to leave your Kees alone for a long time. They may become extreme barkers, chewers, and aggressive.
Trainability
Keeshond is quick learners and are known to be in-tune with their trainers. However, they can somewhat be strong-willed and independent which can affect their training making it hard. Positive reinforcement and lots of praise followed by tasty treats might help and encourage them to follow the cues.
Keeshond won't mind repeating the same task again and again until and unless they're being offered treats as we have already discussed that they are great eaters.
Fun Facts About Keeshond
The Keeshond appeared in the dog show in 1929, but then it was called Dutch Barge Dogs.
In the 1800s, the Keeshond was also known as, "Overweight Pomeranian", "Dutch Barge Dogs" and "Fox Dog".
The Kees is given the nickname, "Smiling Dutchman".
Health Problems
General Health
Healthy
Common Health Issues
Patellar Luxation, Eye Problems,
Hip Dysplasia, Allergies, Epilepsy
Hypoallergenic
No
Vaccination Required
Rabies, Kennel Cough, Leptospirosis,
Canine Coronavirus, Canine Distemper,
Canine Parvovirus, Canine Parainfluenza
Shedding
Heavy Shedder
Drooling
Low Drooler
Grooming
Advance Grooming Required
Weight Gain Potential
Average to High
Separation Anxiety
High Chance
Allergies
Skin Allergy
Diets and Supplements
Protein: 25%
Fat: 8%
Milk Thistle
Glucosamine
Multivitamins
Keeshond is a fairly healthy breed but you will need to prevent your fluffy from overweight. The Kees will enjoy the life expectancy of 12-15 years.
Epilepsy: Epilepsy is a neurological condition that is often but not always inherited. It can cause mild or severe seizures that may show unusual behaviors hiding, chasing or running frantically as if being chased.
Allergies: Allergies are common in every dog breed and Keeshond is no exception. There are three types of allergies: food allergies, contact allergies and inhalant allergies.
Cataracts: Cataracts cause opacity in the eyes, resulting in poor vision. This condition usually occurs in the old age and can be removed by surgery to improve vision.
Price of Keeshond Puppies
Always buy a puppy from a reputable breeder to get the best version of your pet. The pure breed of Keeshond will cost you $1,100 – $4,000.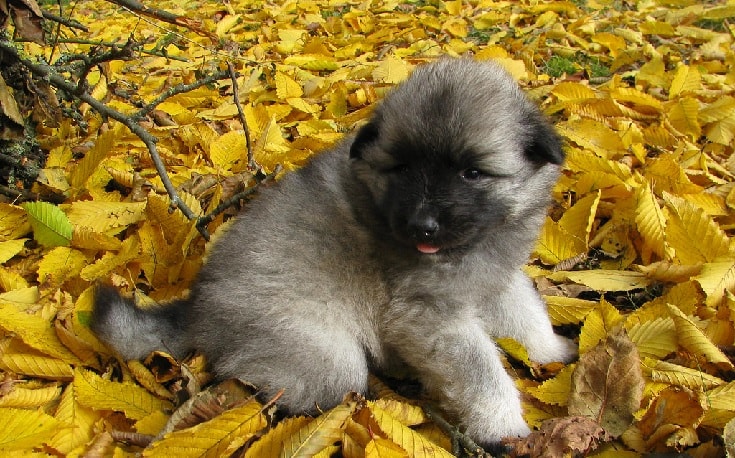 The Keeshond will give birth to 3-8 puppies at a time.
Size of Keeshond
Height: The Keeshond will stand up to 17-19 inches tall.
Weight: The average weight of the Keeshond is 35-45 pounds.
Color Patterns
The Keeshond is found in five colors.
Black and Silver
Grey and Black
Black, Cream and Black
Grey, Silver and Black
Silver and Black
Which Breeds Are Similar To Keeshond
Visit Doglime For More Information on various dog breeds.
Others