Japanese Chin Dog Breed Information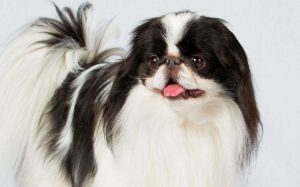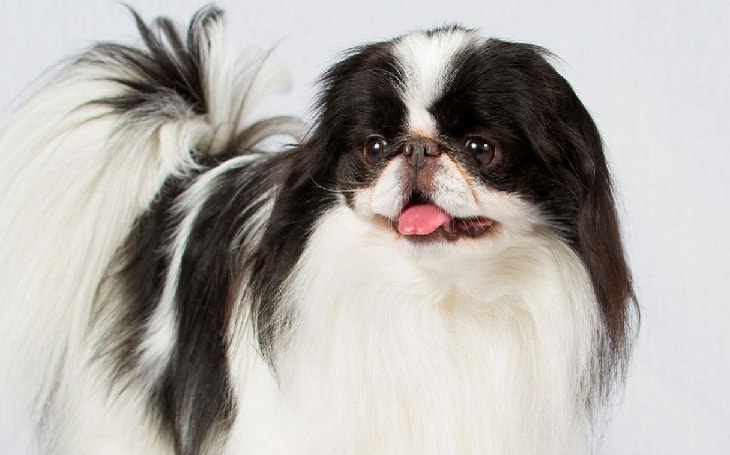 Breeds
General Information
| | |
| --- | --- |
| Dog Name | Japanese Chin |
| Other Names | Chin |
| Scientific Name | Canis lupus familiaris |
| Breed Type | Spaniel |
| Group | Toy |
| Breed For | COmpanion for human |
| Extinct | No |
| Country of Origin | Japan |
Physical And Size
| | |
| --- | --- |
| Size | Small |
| Min Life Span | 10 |
| Max Life Span | 12 |
| Min Ideal Weight for male | 3 |
| Max Ideal Weight for male | 4 |
| Min Ideal Weight for female | 3 |
| Max Ideal Weight for male | 4 |
Ranking
| | |
| --- | --- |
| Intelligent Rank | |
| Trainability | |
| Playfulness | |
| Affection Level | |
| Social Needs | |
| Barking | |
| Watchdog Ability | |
| Territorial | |
| Mouthiness | |
| Adaptability | |
Characterisitics
| | |
| --- | --- |
| Temperament | Smart, Independent, Charming |
| Prey Drive | Yes |
| Fighting Dog | No |
Friendliness
Country of Origin
Japan or China
Nicknames and Other Names
Chin, Japanese Spaniel
Scientific Name
Canis lupus familiaris
Breed Type
Purebred
Group
Companion Group, Toy Group
Bred For
Companion for human
Size
Small-sized
Recognized By
AKC, FCI, UKC, NZKC, ANKC, KC, CKC
Life Span
10-12 years
Ideal Weight
7-11 pounds (male and female)
Ideal Height
8-11 inches (male and female)
Fur Type
Straight, silky, flowing, long
Common Colors
Black and White,
Sable and White,
Lemon and White,
Markings
None
Availability
Available
Achievements
Featured in a movie
Suitable for Apartments
Yes
Used in World War
No
Most Similar To
Tibetan Spaniel
Japanese Chin is a small toy dog from Asia. They are elegant yet funny and dignified yet silly. They look very much similar to King Charles Spaniel. Japanese Chin is known by different names all around the world like Japanese Spaniel, the Japanese Pug, the Japanese, the Jap or simply the Chin.
The appearance of the Japanese Chin is very small and classic with a stylish look. The head is round with a flat face and alert looking eyes that are in almond-shape. Their ears are long and V-shaped. The tail is plumed which is carried over the back.
Origin and History
The Japanese Chin's exact origin is still unknown. Some says that it was from China and some says Korea. Some believe that they were bred by Chinese Emperors and other believes Buddhist monks. However, all agrees that it is a product of Japanese Royal who kept them as their lapdog.
The Japanese Chin was brought in America in 1882 and the American Kennel Club recognized in 1888 as the member of Toy group.
Is Japanese Chin Child-Friendly?
Japanese Chin gets along with children pretty well as they are playful, friendly and gentle. They also make a great companion to play for children as they are active and entertaining. However, younger children should be properly supervised as they can be little more enthusiastic sometime and could hurt this tiny, little Japanese Chin badly.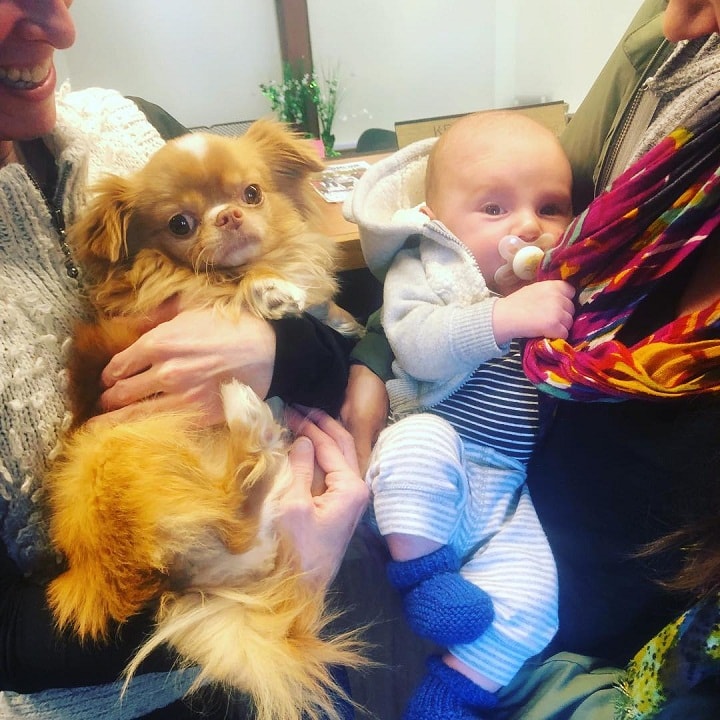 Temperament, Behavior and Personality
Temperament: The temperament of Japanese Chin is very loving, funny and entertaining. They are very playful and are always running here and there. They love the company of their family members and wants to sit on their lap. Japanese Chin is obedient and are also sensitive to its owner.
Behavior: Japanese Chin is very dependent upon people and does not do well if they are left all by themselves at home. This might cause them to face separation anxiety and barking tendency may increase disturbing the neighbor. Japanese Chin is not very much suitable at homes with toddlers as they might play rough which may result in snapping or biting.
Personality: The personality of the Japanese Chin is of noble and charming. They are very playful, happy and mischievous. They are very entertaining and are always making their people laugh and happy. Japanese Chin adores human and love their company.
Trainability
Training Japanese Chin is an easy job to do as he is a people pleaser. You do not have to establish a leadership upon him as they are dependent and already see you as his master. They do not need an experienced dog owner, even a novice owner can train them as long as you use positive methods of training.
Reward you Japanese Chin with treats and praises. They will be happy and it will keep them motivated. Do not make the training session long. Keep it short and fun.
Facts
Japanese Chin ranks 108 of 193 (as of March 2019) registered breed of American Kennel Club.
Before 1977, the Japanese Chin was known as Japanese Spaniel.
Japanese Chin is also compared to cats as they like climbing and snuggle on your lap.
The average life expectancy of Japanese Chin is 10-13 years
Health Issues
General Health
Healthy
Common Health Issues
Cataracts, Patellar Luxation, Heart Disease,
Eye Problems, Epilepsy, Entropion
Hypoallergenic
No
Vaccination Required
Canine Parvovirus, Canine Parainfluenza,
Leptospirosis, Canine Distemper, Rabies,
Canine Coronavirus, Kennel Cough
Shedding
Moderate Shedder
Drooling
Low Drooler
Grooming
Average Grooming Required
Weight Gain Potential
Average
Separation Anxiety
High Chance
Allergies
None
Diets and Supplements
Protein: 18%
Fat: 5%
Digestive Enzymes
Milk Thistle
Fish Oil
Japanese Chin is generally healthy but they are potential of genetic health problems like any other dog breeds. In their lifetime, they can face some canine health problems like:
Heart Murmurs: The heart murmur is an abnormal sound of the heart caused by unstable blood flow out of heart chambers. You will not hear it by yourself but when you take your dog for physical a check-up, he will find out. It is caused due to heart defects or some other infection inside the body.
Cataracts: The cataracts is the cloudiness in eyes which is mainly caused by heredity but not always. It is caused due to the lack of proper nutrition, calcium or exposure to radiations.
Patellar Luxation
Alantoaxial subluxation
Colors
Japanese Chin comes in the following colors:
Black & White
Sable & White
Lemon & White
White & Black
Black, white and Tan
Puppies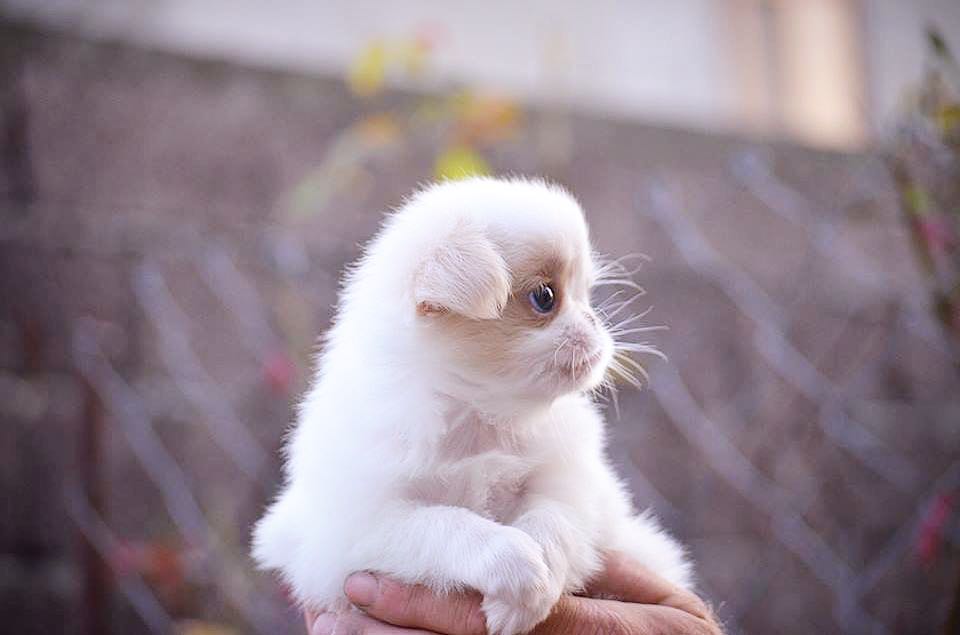 Cost: The average cost of the Japanese chin puppy is between$800-$1500 USD. However, if you consider adoption, it cost less than buying from the breeders. The cost of adoption with all the expenses is usually around $300 USD.
Size
Height: The average height of a Japanese Chin is between 8 to 11 inches.
Weight: The average weight of a Japanese Chin is between 7 to 11 pounds.
Dog Breeds Similar to Japanese Chin
Visit Doglime for more information about dog breeds.
Others