Scottish Deerhound Dog Breed Information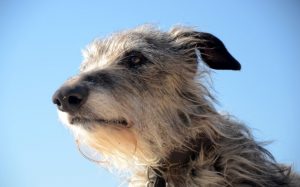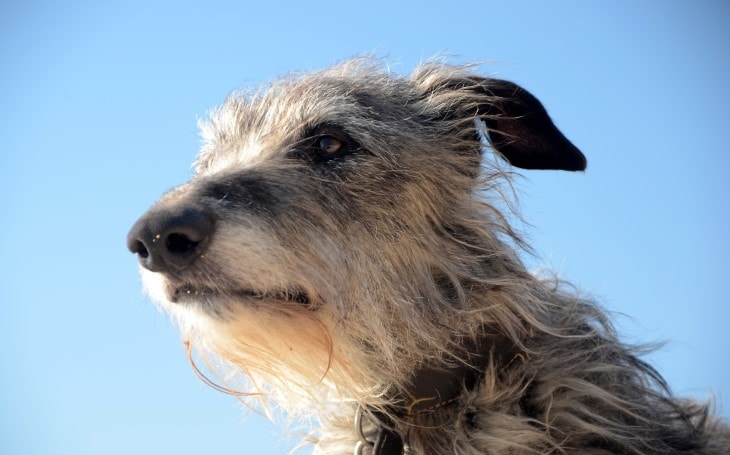 Breeds
Country of Origin
Scotland
Nicknames and Other Names
Deerhound
Scientific Name
Canis lupus familiaris
Breed Type
Purebred
Group
Hound Group
Sighthound Group
Bred For
Hunting red deer
Size
Large-sized
Recognized By
AKC, FCI, ANKC, NZKC, UKC, CKC, KC
Life Span
8-11 years
Ideal Weight
Male: 85-110 pounds
Female: 75-95 pounds
Ideal Height
Male: 30-32 inches
Female: 28 and up
Fur Type
Harsh on the body, neck and quarters,
Soft on head, belly and breast
Common Colors
Blue Gray, Gray, Brindle, Gray Brindle
Markings
White markings
Availability
Rarely available
Achievements
Second tallest breeds
Suitable for Apartments
No
Used in World War
No
Most Similar To
Irish Wolfhound
With a friendly and sensitive personality, the Scottish Deerhounds are highly energetic giant breed who loves to play and to be active most of their time and require daily exercise.
Like other large dogs, the Scottish Deerhound demands a lot of space and food, therefore they are not well-suited for apartment living.
Origin & History Of Scottish Deerhound
The Scottish Deerhound, as their name suggests was originated in Scottland and their history has been traced back to the 16th century. The Scottish Deerhound got special attention at dog shows and since then they gain fame among people and were appreciated for their greatest ability as a noble companion to everyday people.
They were highly valued for their hunting ability, some people still hunt with this breed. In the USA, it's illegal to hunt deer or other animals with dogs, but Scottish Deerhound is used for hunting coyotes, rabbits and sometimes wolves.
In 1769 the breed almost went to extinct because of the destruction of the Scottish clan system, thanks to Archibald and Duncan McNeil who saved it from extinction.
The Scottish deerhound was recognized by the American Kennel Club in 1886. The AKC has ranked 141st among all the breeds they have registered.
Is Your Child Safe With Scottish Deerhound?
Scottish Deerhounds does very well with children, especially with the older ones who know how to interact with dogs. However, their large size makes them unsuited to families with small children; they can easily knock them out.
It is important to teach your child how to approach dogs and always supervise every interaction between dogs and young children to prevent accidents. Never let young kids walk a Scottish Deerhound, the dog won't be able to hang onto the child if the dog decides to chase something.
Temperament, Personality & Behavior
The temperaments of Scottish Deerhounds are affectionate, gentle, sensitive, strong and brave. They have a strong desire for human companionship, therefore, they do not do well in homes where they are left alone for a long time.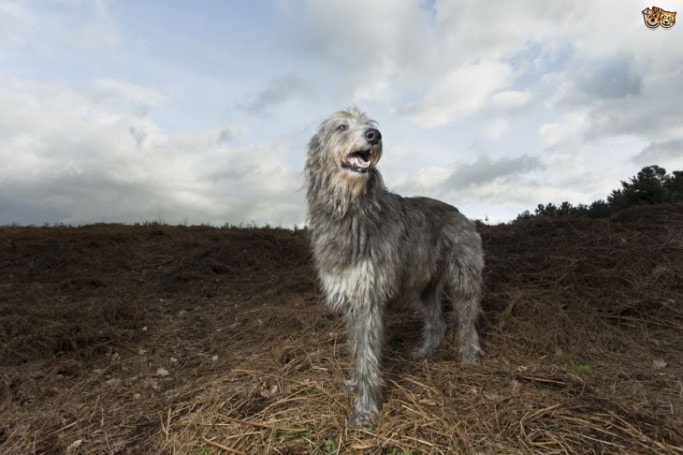 Scottish Deerhounds have an independent and confident personality, therefore they do what they want, when they want and will please when are on the mood of.
The behavior of Scottish Deerhound is quiet, devoted and alert. They are not aggressive but are very courageous and fearless dogs and will never hesitate to face of danger.
Trainability
Training a Scottish Deerhound is not easy, they require high patience and understanding. Because of their sensitive temperament, they don't respond well to harsh training or treatment. Positive reinforcement is the best training techniques to use with this breed, it includes rewards and praise and play.
Facts
Quick facts about Scottish Deerhounds are:
It was first registered by the AKC in 1886.
Bonnie Robin was the name of the first registered Scottish Deerhounds.
Other names by which the Deerhound has been called include Highland Deerhound, Rough Greyhound, and Scotch Greyhound. He is also known as the Royal Dog of Scotland.
They are the second tallest dog breed.

Health Issues
General Health
Healthy
Common Health Issues
Liver Shunt, Skin Irritation, Bloat,
Factor Vii Deficiency, Drug Sensitivity,
Hypothyroidism, Dilated Cardiomyopathy
Hypoallergenic
No
Vaccination Required
Rabies, Canine Parvovirus, Canine Distemper,
Leptospirosis, Canine Parainfluenza,
Kennel Cough, Canine Coronavirus
Shedding
Moderate Shedder
Drooling
Low Drooler
Grooming
Easy to Groom
Weight Gain Potential
Average to High
Separation Anxiety
High Chance
Allergies
Skin Allergy
Diets and Supplements
Protein: 27%
Fat: 10%
Multivitamins
Omega-3 and 6 Fatty Acids
Probiotics
Health problems the Scottish Deerhound prone to suffer from are:
Liver shunt – Liver Shunt is a very serious concern.
An inherited kidney disease called cystinuria occurs only in males.
An inflammatory brain disease called aseptic meningitis can cause recurring head and neck pain in Scottish Deerhounds.
Skin problems include allergies which cause itchy skin and can lead to pyoderma
Color
Scottish Deerhounds are found in six colors, which includes:
Brindle
Fawn
Red Fawn
Blue
Gray
yellow
Puppies
Scottish Deerhound dogs can give birth up to 4-7 puppies at a time. The price of Scottish Deerhound puppies depends on their breeding, they can cost you somewhere between $1000-$2500.
Which Dogs Are They Similar To?
Dogs similar to Scottish Deerhounds are:
Visit Doglime For More Dog Breed Information.
Others