Karelian Bear Dog Breed Information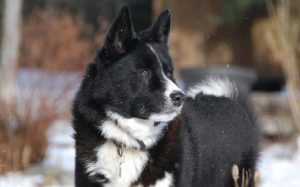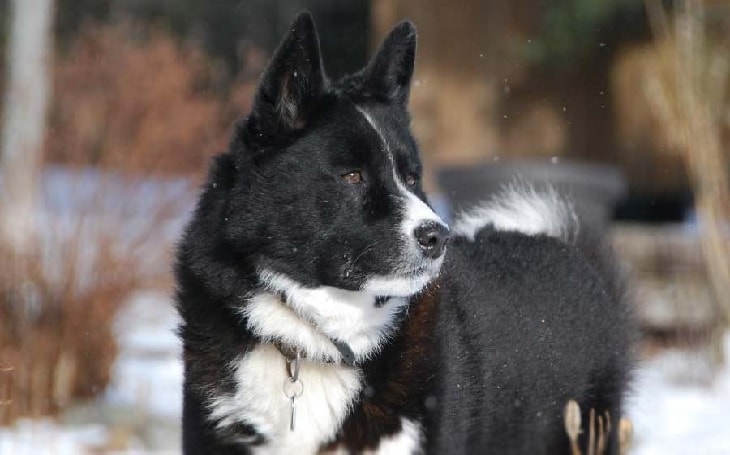 Breeds
General Information
| | |
| --- | --- |
| Dog Name | Karelian Bear Dog |
| Other Names | Karjalankarhukoira |
| Scientific Name | Canis lupus familiaris |
| Breed Type | Spitz |
| Group | Working |
| Breed For | Hunting game |
| Extinct | No |
| Country of Origin | Finland |
Physical And Size
| | |
| --- | --- |
| Size | Medium |
| Min Life Span | 11 |
| Max Life Span | 13 |
| Min Ideal Weight for male | 19 |
| Max Ideal Weight for male | 22 |
| Min Ideal Weight for female | 19 |
| Max Ideal Weight for male | 22 |
Ranking
| | |
| --- | --- |
| Intelligent Rank | |
| Trainability | |
| Playfulness | |
| Affection Level | |
| Social Needs | |
| Barking | |
| Watchdog Ability | |
| Territorial | |
| Mouthiness | |
| Adaptability | |
Characterisitics
| | |
| --- | --- |
| Temperament | Loyal, Courageous, Energetic |
| Prey Drive | Yes |
| Fighting Dog | No |
Friendliness
| | |
| --- | --- |
| Stranger Friendly | Low |
| Child Friendly | Medium |
| Cat Friendly | Low |
| Dog Friendly | Low |
| Office Friendly | Low |
| Apartment Friendly | Low |
| Senior Citizens Friendly | Low |
| Service Dog | Low |
| Search and Rescue Dog | Low |
| Biting Potential | Medium |
Country of Origin
Finland
Nicknames and Other Names
Karjalankarhukoira
Karelsk Björnhund
KBD
Scientific Name
Canis lupus familiaris
Breed Type
Purebred
Group
Working Dog
Spitz Dogs
Bred For
Hunting variety of animals
Size
Medium-sized
Recognized By
AKC, UKC, CKC, FCI
Life Span
11-13 years
Ideal Weight
44-49 pounds (male and female)
Ideal Height
19-23.5 inches (male and female)
Fur Type
Straight, soft, thick undercoat
Common Colors
Black
Markings
White markings
Availability
Moderately available
Achievements
None
Suitable for Apartments
Not suitable
Used in World War
No
Most Similar To
Finnish Spitz
The Finnish Dog, Karelian Bear dog is Spitz-type dog with fluffy coats and curled tail. These breeds were originally bred to hunt wild boar, moose and wild bears.
Karelian Bear dogs, also known as Karjalankarhukoira are extremely loyal to their family. However, there are certain things you should know about their temperament, origin and why they were bred for.
History And Origin
Karelian Bear dog dates back to the Neolithic times thousand of years back. They were developed to hunt wild and big animals, who helped the first human settlers to survive by hunting.
The Karelian dogs are considered among the rarest breed but are still used to hunt elk and other wild animals in Scandinavia. Two Karelian Bear dogs will easily break down a giant bear.
The American Kennel Club does not fully recognizes the breed but are included in AKC Foundation Stock Service which helps to keep records of the breed's linage.
Are Karelian Bear Dog Child Friendly?
Karelian Bear dogs are fairly good with children especially with those from its own family. They are highly energetic which makes playing fun for both dog and child. However, they should be kept an eye since they may loose self-control and become intense rough players.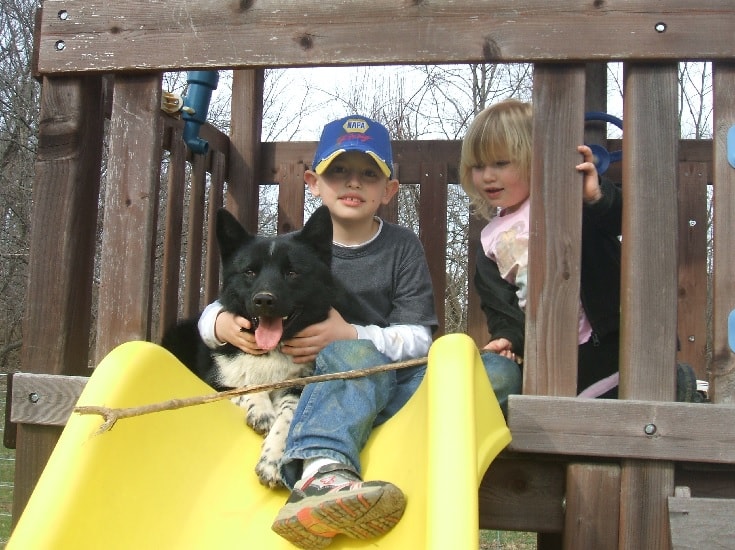 The bear dogs are not really fond of new kids. They may not bark or scare the children but will remain suspicious until they aren't introduced properly. They must not be the best dogs for children who are inexperienced and very young.
Behavior, Temperament And Personality
Karelian Bear Dogs are intelligent, energetic and intense with natural aggression and hunting instincts. Socialization should begin in an early age to avoid unacceptable behaviors like stubbornness and aggression.
Karelian is best for their families but dangerous to strangers. They will not allow any visitors in the house until and unless you make them sure that they are safe. These breeds are very protective towards their family and territory and will not even think twice before knocking any other animals.
The Karelian Bear dogs are not always eager to sit between the pack. They will sometime become independent and think on their own but prefer staying with their master. They are likely to develop separation anxiety when left alone. Remember, alone dog means you will have a job waiting for you! If you know what I mean!
Training Your Karelian Bear Dog
Karelian were bred for hunting, which clearly means that they have enough stamina to spare. The breed needs at least 30 minutes of vigorous exercise and running time in a fenced yard.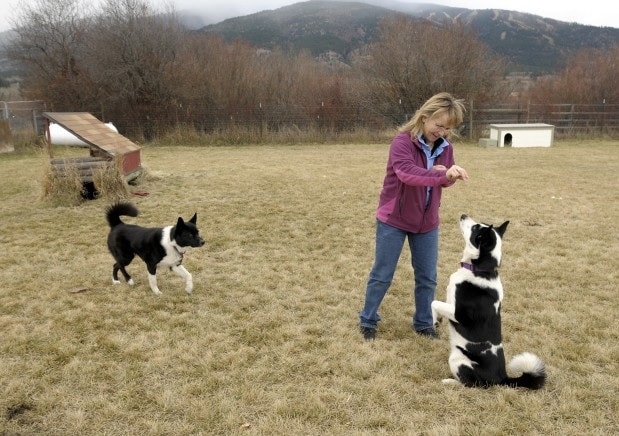 Karjalankarhukoira is intelligent which makes training hard. They may become stubborn and independent at times and even more if they sense any lack of leadership.
Karelian Bear Dog tend to be aggressive towards other dogs which makes them the need for great socialization period. This breed should be sent to obedience classes and puppy kindergarten to socialize properly with other breeds to train them properly.
Fun Facts About Karelian Bear Dog
In the United States, the Karelian Bear Dogs are used at Yosemite and Glacier National Parks as well as in the Washington State Department of Fish and Wildlife to control Bears.
In Finland, the Karelian is spelled as 'Carelian' and is called Karjalankarhukoira in Finnish.
Health Problems
General Health
Healthy
Common Health Issues
Baldness, Hip Dysplasia,
Dry Skin, Skin Irritation,
Pituitary Dwarfism, ental Problems, Obesity
Hypoallergenic
No
Vaccination Required
Rabies, Canine Distemper,
Canine Parvovirus, Kennel Cough,
Canine Coronavirus, Canine Parainfluenza,
Leptospirosis
Shedding
Moderate Shedder
Drooling
Low Drooler
Grooming
Advance Grooming Require
Weight Gain Potential
Low to Average
Separation Anxiety
High Chance
Allergies
Skin Allergies
Diets and Supplements
Protein: 27%
Fat: 10%
Glucosamine
Lysine
Multivitamins
Karelian Bear dogs are fairly healthy breed. However, minor issues like eye infections, hip dysplasia, and dental problems may occur. It is important to buy a Karelian from a reputable breed to avoid health issues. The average life span of Karelian Bear dog is 10-12 years.
What Is The Cost Of The Karelian Bear Puppies?
The cost of the Karelian Bear dog's Puppy costs is anywhere between $1,000 – $2,000. The price varies depending on the quality of the breeders as well as the puppies.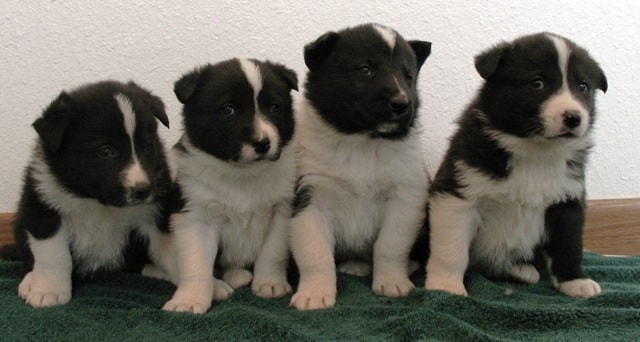 The Karelian Bear dog will give birth to an average of 4-8 puppies at a time.
Height And Weight
The Karelian reaches up to 19-23 inches. The average weight of the Karelian Bear dog is 45-50 pounds.
Color Patterns
The Karelian Bear Dog are found in three colors.
Black
White and Black
Black and Tan
Breeds Similar To Karelian Bear Dog
To sum up, confident, alert and brave are the words to describe a Karelian Bear dog. Raise them with proper care and affection and you will always have your back with your Karelian Bear dogs.
Visit Doglime For More Breed Information and their behavior and trainability.
Others